Tech & Learning University: Remote Teaching and Learning Playbook for Higher Ed
Tech & Learning University's new Remote Teaching and Learning Playbook offers a free detailed remote learning plan for higher ed institutions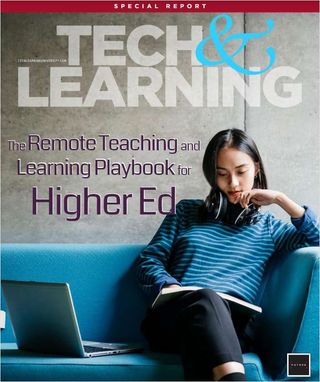 (Image credit: Future)
The Remote Teaching and Learning Playbook is a free special report that includes strategies, decisions, implementation methods and lessons learned from undertaking this huge task of moving courses online in midstream -- all from the perspective of the higher edtech community.
According to educationdata.org, there were approximately 18.2 million students in the U.S. enrolled in colleges and universities for the Fall 2019 Semester with more than 1 million of them being international.
Now think about all 18 million students learning remotely.
The higher ed community is made up of particularly compassionate individuals willing to share during the best of times. During interviews for this Remote Teaching and Learning Playbook -- the first special edition from the new higher ed resource, Tech & Learning University -- many were even more eager to pass along what they are learning day-to-day as the mass transition to remote teaching and learning unfolds.
In this playbook, you'll find professional tips and advice for:
Continuity planning through uncharted territories and an unprecedented crisis
A step-by-step move to a virtual campus
The video-streamed classroom
Elearning resources
To download your free special report, click here.
We'd love to stay in touch, sign up for the Tech & Learning University team to contact you with great news, content and offers.
Thank you for signing up to Tech and Learning University. You will receive a verification email shortly.
There was a problem. Please refresh the page and try again.