Wayne State College's Ramsey Theatre Upgrades Ramsey Theatre Sound
The new system uses a single Danley SH96HO full-range loudspeaker positioned above the center edge of the stage to cover the main floor.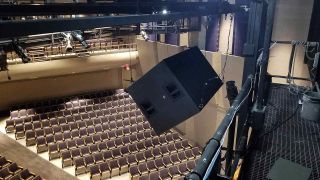 (Image credit: Danley Sound Labs)
Wayne State College, a mid-sized public school in rural Wayne, Nebraska with over 3,500 students, recently upgraded its 675-seat Ramsey Theatre.
Wayne State College's theatre arts degree program provides its students with three performance venues housed in the Lied Performing Arts Center. Largest of the three, the Ramsey Theatre's sound reinforcement system was not commensurate with the quality of the program. Local AV integration firm Adams Production Services, of Vermillion, South Dakota, recently designed and installed a Danley Sound Labs system that delivers improved intelligibility from a compact system.
"Last year, I updated the PA system in Wayne State College's gymnasium with six Danley OS80 loudspeakers, and they loved the improvement," explained Brian Adams, owner of Adams Production Services. "They showed me the system in the Ramsey Theatre, which had recently suffered the failure of its main DSP. They replaced it, but it really called their attention to how bad the entire system sounded. It was comprised of fourteen 90s-era open horns and subwoofer boxes, along with several fills and a ton of amps and amp channels. They were way past due for an entire system overhaul."
Adams designed a simple Danley system for the Ramsey Theatre. "It comes back to the basic principles of good sound reinforcement design," he said. "For the same coverage, fewer boxes are always better than more boxes because that minimizes the opportunities for interference and comb filtering."
The new system uses a single Danley SH96HO full-range loudspeaker positioned above the center edge of the stage to cover the main floor. A pair of column-form, point-source Danley SBH20 loudspeakers cover the small balcony section. The sound booth takes up the center section of the three-section balcony, and Adams was careful to give that position sound that is representative of the main floor. Finally, a relatively smaller Danley SH95 fires down at the stage from behind the SH96HO for monitoring. and a four-channel Danley DNA 20k4 Pro amplifier powers the entire system. Adams used its integrated DSP and presets for all of Danley's boxes as a starting point when he tuned the system. "Honestly, there was almost no tuning after the presets," he laughed.
He continued, "They were very surprised at how incredible the Danley system sounded once we fired it up for the first time. I don't think they ever imagined it could be that good!"
We'd love to stay in touch, sign up for the Tech & Learning University team to contact you with great news, content and offers.
Thank you for signing up to Tech and Learning University. You will receive a verification email shortly.
There was a problem. Please refresh the page and try again.