How It's Done: At UCLA, the Eyes Have It with VRMagic
By Sascha Zuger
The UCLA Stein Eye Institute includes a mandatory program using Eyesi® Surgical virtual reality eye tech, in conjunction with traditional wet and dry labs, to train skilled surgeons.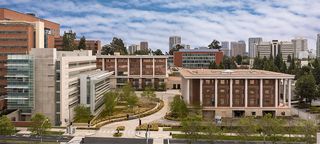 (Image credit: UCLA)
The UCLA Stein Eye Institute includes a mandatory program using Eyesi® Surgical virtual reality eye tech, in conjunction with traditional wet and dry labs, to train fluid and highly skilled surgeons. 
We chat with Dr. Colin McCannel, a retinal surgeon at the UCLA Stein Eye Institute, about the tech's success. 
Who: UCLA Stein Eye Institute 
Where: Los Angeles, CA 
What: Using Virtual Reality Surgical Simulator to Train Future Surgeons 
When it comes to training future surgeons, we still use traditional work in the wet lab and dry lab, but they used to train on pig eyes which are just not quite as realistic. With the simulator, the curriculum is being personalized to the learner. Some will take several attempts to gain a skill, others may take longer. With the smartly designed simulator software, there are minimum score levels that require consistency so the user must demonstrate that it wasn't a lucky try that they achieved success. The odometer feature tracks path-length of the instrument while inside the eye doing each task, so they can see how much they move around in the eye to accomplish the task. It gives them a direct measure of their surgical efficiency. 
Motor learning is very specific, the more identical it is to the actual event the better, however it teaches you all the moves. It's true that on the simulator they are just slightly miscalculated, but this resolves very quickly and there is much shorter learning curve. The repetition and reinforcement of microsurgical dexterity doing these maneuvers hundreds of times during the course of the curricula, versus a handful of times on a pig's eye, leads to a very fluid surgeon. We see these students rise to become surgeons much quicker as they hit the ground running, they don't have to teach them to walk first.
Positive Results
The last five years since we've made the simulator a mandatory of the program, all the residents have to complete five training modules on the simulator. The attendees and supervising surgeons have said it's made a huge difference in the operating room because the residents are coming in with the skillset far beyond what they use to have. There are far fewer complications in the operating room. 
The most impactful result seen is far fewer cases that go on for a long time. Previously when things weren't going well and the attending surgeon had to coach the student through the resulting necessary interventions, we saw some of these cases going on for 60-90 minutes. With so much skill built through practice on the simulator, we very rarely see them go past 30-40 minutes. This has led our annual cataract surgeries to double. We are no longer having to cancel and reschedule late day surgeries because those earlier in the day are going too long.
Biggest Challenge
Resident buy-in was easy, but certain cataract surgeons felt you couldn't teach on a simulator, that it was nothing like the real thing. I think the naysayers are dying down, now people are starting to understand you can learn. I compare it to football training. When players push sleds across the field, they are building their balance and core strength to be better blockers. Pushing a sled across a field doesn't look like the game of football, has nothing to do with taking on a live player, but certain skills and muscles are perfectly prepared and made ready for the real game. The simulator offers quickly translatable skills, with a minor recalculation for the real thing.
Pro Tips
This needs to be mandatory and integrated into the program. Many universities have the tech and it is sitting around collecting dust. Students' schedules are just too busy and it becomes hard to justify an elective use of time that is not required. When it is part of the program, the pros are clear. They all agree that is a great use of time and they benefit in the operating room. It also needs to be properly timed. It needs to be scheduled for the six months before they start operating. If they do it too early, there is a decay of learning and they won't see the same benefits.
Finding Funding
When I was being hired, I felt strongly about the inclusion of this tech. I came from the Mayo Clinic which was one of the earliest adopters, and had learned that this could really work when made mandatory. I started a number of studies which proved the benefit. Armed with that, I was able to justify the purchase. It is not a cheap investment, but I feel like it really returns great bang for the buck. We also purchased a VR Magic Indirect Ophthalmoscope which is an examination tool that can be challenging for new residents to master, but unpleasant for patients if it is used inefficiently. Similarly we bought a VR Magic Direct Ophthalmoscope for the medical school, through a grant from the former chairman and dean.
What's Next
We are in the process of upgrading to the next generation, which is very similar but has better graphics. The system is similar; there is just less pixelation so it offers an even more realistic experience.
Tech Tools
Eyesi® Surgical— VR Magic
Direct Ophthalmoscope — VR Magic
Indirect Ophthalmoscope — VR Magic
We'd love to stay in touch, sign up for the Tech & Learning University team to contact you with great news, content and offers.
Thank you for signing up to Tech and Learning University. You will receive a verification email shortly.
There was a problem. Please refresh the page and try again.