VMP Features Flexible Large Flat Panel Digital Signage Mount During 2020 ISC West
Video Mount Products will feature its flexible FP-LDSB large flat panel digital signage mount during ISC West 2020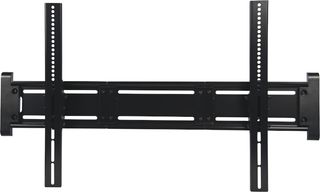 (Image credit: VMP)
 Video Mount Products, provider of mounting solutions for the security, residential, CI, commercial, and pro audio/video markets, announces it will feature its flexible FP-LDSB large flat panel digital signage mount during ISC West 2020, held in Las Vegas, Nev. from March 18-20 at the Sands Expo and Convention Center, booth #1046. The FP-LDSB has an MSRP of $206.95 
Suitable for both menu boards as well as central station applications, the FP-LDSB holds most 42in. – 90in. flat panels with a maximum flat panel hole pattern of 810mm x 530mm (810mm x 810mm with extensions). The FP-LDSB has an adjustable tilt of -5 degrees to +15 degrees in lockable 5 degree increments. A sectional wall plate can be integrated with multiple FP-LDSB to create a video wall, and the mount has a shallow profile of only 2.5 inches from the wall (2.6 inches with rail extensions). The FP-LDSB comes in a black powder coat finish with a 180 lb. load capacity. 
For more information, visit www.videomount.com or call toll free 877-281-2169 or try the VideoMount™-Finder at www.chooseamount.com.
We'd love to stay in touch, sign up for the Tech & Learning University team to contact you with great news, content and offers.
Thank you for signing up to Tech and Learning University. You will receive a verification email shortly.
There was a problem. Please refresh the page and try again.