Stem Audio Releases Major Firmware Update 1.3 with Zoom Mute Sync and More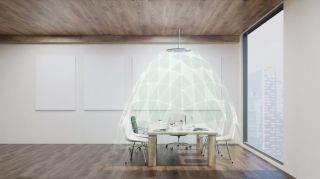 (Image credit: Stem Audio)
With millions of educators and students worldwide unexpectedly thrown into the world of videoconferencing, the importance of quality video and audio to the teaching experience cannot be denied. In particular, without clear, secure audio, real communication is impossible. 
To help support audio quality in remote learning and videoconferencing, Stem Audio announces the release of their latest firmware update (version 1.3) for the conference room ecosystem. This update offers new features including mute sync with Zoom, automated future firmware updates, audio fencing, enhanced encryption, and more. 
"Our team has been hard at work pushing the envelope of what is possible in the collaboration space" says Jacob Marash, CEO and Founder of Stem Audio.
Mute Sync with Zoom
When muting your meetings directly on Zoom, Stem's audio devices are now sync'd to indicate they have also been muted by lighting up red. The same goes for muting the Zoom application from Stem Table and Wall devices. By pushing the microphone button on your Table or Wall device, your meeting will indicate it has been muted on the Zoom software application. 
Automated Firmware Updates
All future firmware updates will be pushed automatically to all Stem devices. 
Stem Ceiling Is Now Equipped with Audio Fencing
Stem Ceiling's audio fencing technology creates a 25-degree zone of coverage where anyone within that zone will be heard perfectly and any outside noise and unwanted distractions will be completely removed from the meeting. 
Enhanced Encryption
Stem Audio added an extra layer of encryption for communication between units for enhanced security in addition to ensuring your username and password data is protected at all times. Audio packets between devices are now fully encrypted and cannot be recreated if collected through the network. 
WEBINAR: Interested educators are invited to join Stem Audio on June 24th at 10am PT to get an in-depth look at firmware update 1.3 and ask  questions.
We'd love to stay in touch, sign up for the Tech & Learning University team to contact you with great news, content and offers.
Thank you for signing up to Tech and Learning University. You will receive a verification email shortly.
There was a problem. Please refresh the page and try again.