Roland XV-5080 Now Available in Cloud
New cloud-based tool for in-class instruction and independent lab exercises.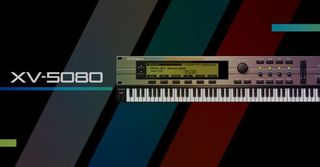 (Image credit: Roland)
Roland Cloud, an evolving cloud-based suite of software synthesizers, drum machines, and sampled instruments, presents the new XV-5080. Roland believes the XV-5080 will set a standard for cloud-based sample-based libraries.
Released in 2000, and described as "Roland's ultimate sound module," the XV-5080 offered immense PCM-based multitimbral synthesis power, modulation, an array of pro-quality DSP effects, and compatibility with the SRX Expansion Board series. Its fidelity and technological adaptability made it a go-to solution for composers, producers, songwriters, artists, and media professionals spanning a range of genres. 
Roland Cloud believes the XV-5080 will be a valuable solution for educators. "With over 900 diverse presets and 38 categorized banks, Roland Cloud's XV-5080 is a powerful tool with many higher education applications, for both in-class instruction and independent lab exercises," said Ari Rosenschein, Roland Cloud. 
"Instructors could assign students a project to create an entire track in a DAW using solely XV-5080 sounds—from drums and bass to synth parts and exotic patches," Rosenschein added. "With its intuitive interface, the virtual XV-5080 can also serve as a gateway for university students new to the world of plugins. The rich sound palette allows burgeoning college creatives to explore and combine a wide variety of genres from within a single software synthesizer."
Hardware synthesizers like the Roland SYSTEM-8 can map to these controls, facilitating an easy, tactile workflow. Roland Cloud's XV-5080 also features a drop-down editor with separate views for STRUCTURE, TVF, TVA, LFO, and other parameters.  
For more information visit www.rolandcloud.com.
We'd love to stay in touch, sign up for the Tech & Learning University team to contact you with great news, content and offers.
Thank you for signing up to Tech and Learning University. You will receive a verification email shortly.
There was a problem. Please refresh the page and try again.