Case Study: Robert Morris University's Installs Danley Sound Gear in New UPMC Events Center
In support of its successful athletic programs, RMU raised private funds to construct the new UPMC Events Center.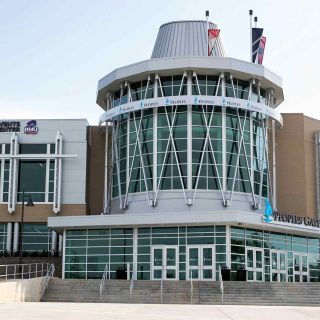 (Image credit: Robert Morris University)
Robert Morris University is a private institution in the suburbs of Pittsburgh, Pennsylvania that instructs close to 5,000 undergraduate and graduate students. Although a relative latecomer to the scene, RMU's men's and women's Colonials sports teams have won 45 league championships since joining the NCAA Division I in 1976. In support of its successful athletic programs, RMU raised private funds to construct the new UPMC Events Center, which includes the Peoples Court, a 4,000-seat arena for men's and women's basketball and women's volleyball, an auxiliary gym, and other event and conference spaces. Local AV integration firm Horizon Information Services worked with the architect to design and install a sound reinforcement system that uses Danley Sound Labs' patented point-source loudspeaker and subwoofer technologies to deliver intelligible sound even at extreme SPLs (Sound Pressure Levels) .
"We went with Danley Sound Labs loudspeakers, subwoofers, and amplifiers/DSP because of their very favorable cost-to-performance ratio," said Jonathan Kaiser, system design and engineering specialist at Horizon.
The sound reinforcement system in the Peoples Court is distributed and time-aligned to work with a center-hung Daktronics scoreboard. Four Danley SH95HO full-range loudspeakers hang from each corner of the scoreboard on a custom rigging frame to cover the court and a sizable section of the lower-bowl seating. All told, eight clusters, each comprised of a Danley TH118XL subwoofer mounted above a Danley SH96HO full-range loudspeaker, ring three sides of the Peoples Court and cover the upper bowl seating along with the remainder of the lower bowl seating. The east end will be used to stage events and currently has two Danley SH95HOs for down fill. For the time being, touring acts will need to bring their own PAs, but Horizon Information Services has plans to install two massive Danley J3-94 Jericho Horns – the same boxes used in 100,000-plus-seat football stadiums – to give the Peoples Court ample in-house concert capacity. Finally, the auxiliary gym, which will mainly be used for practices but which can also host games with standing room only, uses a single Danley TH118XL subwoofer and four Danley SM80 full-range loudspeakers.
The system is powered by eight 4-channel Danley 20k4 Pro amplifiers (32 channels total at 5000 Watts each) with built-in DSP and presets for every box that Danley makes. The amplifiers receive signal from a QSC Q-Sys DSP system via Dante, which in turn receives input via Dante from a DiGiCo console at FOH.
"There is a separate digital snake, and everything can be physically moved to accommodate different event types," Kaiser said. "We gave them broadcast truck tie-ins via Dante, along with the ability to hold small functions in the concourse areas. We even gave the coaches access to basic music playback functionality from their phones so they can easily play music during practices." QSC in-ceiling speakers cover the concourses, and a large number of zones with matrixed any-input-to-any-output Dante flexibility will allow the university to adapt the system to future event types.
The installation itself went smoothly. "I love the way the Danley boxes are designed to make rigging easy," said Jason Loffredo, project manager with Horizon Information Services. "My techs and I were impressed by how smooth and consistent the sound remained as we walked around the bowl – both side to side and up and down. It's difficult to tell where one speaker drops off and the next one picks up. Everyone at RMU is similarly impressed. They love the sound quality and the different levels of control that we gave them."
We'd love to stay in touch, sign up for the Tech & Learning University team to contact you with great news, content and offers.
Thank you for signing up to Tech and Learning University. You will receive a verification email shortly.
There was a problem. Please refresh the page and try again.