Protecting At-Risk Faculty During a Return to Campus
By Erik Ofgang
Protecting at-risk faculty continues to be a concern for higher ed institutions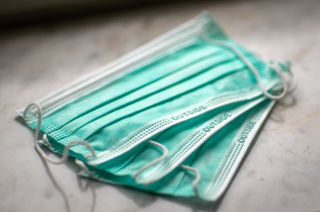 (Image credit: Unsplash: Mika Baumeister)
Barbara Bowen knows well the toll COVID-19 can take on a university. She is president of the Professional Staff Congress, PSC/CUNY, which represents more than 30,000 faculty and staff at the City University of New York. Since March at least 46 faculty and staff have died from the virus, and there are likely more who have died--in addition to students--but these losses have not been tracked yet, Bowen says.
That is why she does not believe CUNY's 25 campuses are ready to reopen in fall despite the system's plans for a mix of hybrid and in-person classes. (CUNY's press office did not respond to interview requests for this story.)
"Our members are deeply concerned about any return to onsite work, and they have turned to the union to help them protect their safety," Bowen says. "There is no confidence among our members that we can trust CUNY to provide a safe and healthy work environment."
Across the U.S., many higher ed institutions are returning with some version of on-campus education this fall, requiring faculty and staff to implement a variety of different strategies to try and do so safely.
Technical Solutions and Challenges
Mississippi State University is relying on a combination of physical distancing, limited class sizes, face coverings, and nightly deep cleanings to keep the virus at bay, says Vice President for Finance and Administration Don Zant. In addition, university officials are working with the Everbridge app developer to design a program that will assist with contact tracing on campus, and provide alerts and reminders to students and staff to check their temperatures.
As at many other institutions, students will not return to campus after Thanksgiving and face coverings will be required. The university is providing faculty with face shields in addition to masks so that their voices won't be muffled and students can see their facial cues during lectures. Faculty members will also receive individual microphones so they don't have to worry about giving microphones back and forth, Zant says.
Choice is Good
At Rice University in Houston, Texas, "We gave all our faculty a choice: You can either teach in person, or you can just have an all virtual class," says Kevin Kirby, vice president for administration. "We gave the same choice to our students."
Every physical class is required to have a real-time virtual component so that enrolled students can watch lectures and participate in discussion remotely, Kirby says. This was extended to all classes including labs. About 80 percent of undergraduate students opted to return to campus, and enough professors agreed to in-person classes for 60 percent to take place in-person.
At CUNY, Bowen would like a similar choice. She says that many CUNY buildings had ventilation and plumbing issues prior to the pandemic and adds school officials need to consider the challenges in simply getting to school. "A return to on-site work will almost inevitably mean traveling to campus on public transportation in crowded conditions," she says. "We are not a campus where people generally drive-in."
Limits of Online Learning
At MSU, the administration's decision to reopen campus was based on meeting students' educational needs, Zant says. Though the university's online classes will supplement on-campus learning, stakeholders felt strongly that there were advantages to in-person. "There are various studies that will tell you that the best way for students to study is to be there, to be immersed in their education," says Zant. "We have some students that they just have a better life in general being on campus. It's better for them health-wise, safety-wise. It's just a better place to be."
For CUNY, Bowen says online learning can be tremendously effective, but it requires planning and support, which she does not believe the university system is providing its faculty. She says to be effective, online classes must be smaller and they need more resources than in-person learning, not fewer.
Flexibility and Transparency
A key to a successful reopening strategy is open communication amongst stakeholders. "Mississippi State University is as transparent, or more transparent than it has ever been at any time," Zant says. He adds that officials have planned their reopening in lockstep with their faculty members.
"There are some faculty who certainly are ready to get back into the classroom, and we have some that are more apprehensive," Zant says. "If there's a faculty member who has a condition that may make them more susceptible to the virus, then we would certainly make accommodations for that. We do provide for teleworking."
Faculty members will also be encouraged to be flexible with student attendance and due dates, so students don't feel pressured to attend classes.
The key to a good reopening plan is fluidity, Zant says, as the plan today could change by tomorrow. "We are striving to have students this fall, that is the goal," he says. "At this point, we still think we can achieve that."
We'd love to stay in touch, sign up for the Tech & Learning University team to contact you with great news, content and offers.
Thank you for signing up to Tech and Learning University. You will receive a verification email shortly.
There was a problem. Please refresh the page and try again.