Nureva™ HDL200 Audio Conferencing System Now Shipping Globally
The HDL200 is designed for rooms and open spaces up to 18' x 18' (5.5 x 5.5 m).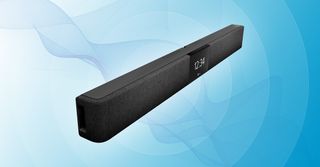 (Image credit: Nureva™)
More and more it looks like the old way of doing business—with plenty of in-person meetings—won't be returning any time soon, if ever, thanks to the Covid-19 pandemic. That's why it's more important than ever to ensure that our remote technology tools provide high-quality audio for clear communication, whether across the cloud or just across the room.  
Nureva Inc. is now shipping its HDL200 audio conferencing system, the newest addition to the company's line of audio conferencing products. The HDL200 is designed for rooms and open spaces up to 18' x 18' (5.5 x 5.5 m).
All Nureva audio systems are powered by patented Microphone Mist™ technology, which fills the entire space with thousands of "virtual microphones" so that everybody can be heard no matter how far apart in-room meeting participants are, how softly they talk or which direction they face.  The system was designed for quick DIY installation. It can be mounted above or below a display, on either a wall or a mobile stand. An optional magnetic mount is also available for attaching third-party cameras to the system. The HDL200 also has a built-in LCD to give in-room participants information such as time, volume and mute on/off. 
Nureva's audio product line includes the HDL200 for small spaces, the HDL300 for medium spaces up to 25' x 25' (7.6 x 7.6 m) and the Dual HDL300 for large spaces up to 30' x 50' (9.1 x 15.2 m). 
Deployment of the full Nureva audio conferencing product line is supported by Nureva Console, a cloud-based platform that lets IT staff implement and manage all Nureva systems at scale from a secure, web-based dashboard. Once a Nureva audio system is enrolled through Nureva Console, customers also receive an additional year of warranty, an increase from two years to three.
"I am one of the early users of the HDL200 system, which I've been using in my home office since early April, and I've been impressed with the system's clear audio pickup," said John Simpson, chairman of the CANA Group of Companies. "I am no longer wondering what people are saying, because I can hear everyone on the call crystal clear."
"The HDL200 is an elegant solution that brings great audio quality into your conference calls while giving the user a simple ease of use experience," said Paul Lemyre, DataVisual's Senior Technical Engineer. "Adding the LCD was also a clever decision and I can see it bringing additional value to customers."
We'd love to stay in touch, sign up for the Tech & Learning University team to contact you with great news, content and offers.
Thank you for signing up to Tech and Learning University. You will receive a verification email shortly.
There was a problem. Please refresh the page and try again.