NewTek Announces New NDI® Spark Plus IO Converters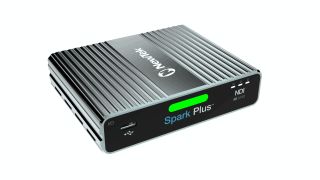 (Image credit: NewTek)
NewTek, part of the Vizrt Group, has announced two new Spark Plus IO converters to the lineup. The new Spark Plus IO converters simplify the encoding or decoding of video for use in an IP-based workflow.

"The move to video production over IP is well underway and products like the new Spark Plus IO help bridge the gap between the old and the new," said Dr. Andrew Cross, president of R&D for the Vizrt Group.

The new Spark Plus IO 4K features:
High bandwidth NDI at full 60p.
Route NDI signals to TV screens or deliver a 4K signal into an NDI workflow.
The Spark Plus IO SDI encodes or decodes at rates up 1080p 60 NDI for 3G-SDI environments without disrupting the existing traditional SDI video infrastructure.
Both Sparks come with PoE, simple auto discovery, and tally light with NDI support, in a compact design.

Spark Plus IO converters bypass the need for a capture card solution. These converters are designed to be in service quickly with the entire setup over one Ethernet cable. A web-based interface allows configuration and monitoring from a desktop or mobile browser.
Pricing and Availability
NewTek Spark Plus IO converters are available now and are priced at $895 USMSRP. NewTek Spark Plus IO SDI converters are available now and priced at $995 USMSRP. International pricing may vary.

For more information about NewTek and these new products, visit https://www.newtek.com.
We'd love to stay in touch, sign up for the Tech & Learning University team to contact you with great news, content and offers.
Thank you for signing up to Tech and Learning University. You will receive a verification email shortly.
There was a problem. Please refresh the page and try again.