New Decade, New Trends: Where Now For Edtech?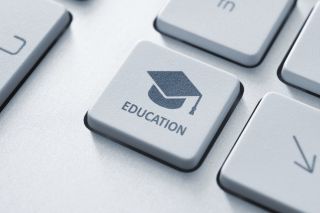 (Image credit: iStock/pressureUA)
As we enter a new decade, consumer behaviour and technology trends continue to evolve. In the education space, the next few years are likely to bring a new set of challenges and opportunities for suppliers and educators alike. Andreas Olah, head of education technology for Futuresource Consulting, explores the changing landscape and highlights some of the key developments to watch for, including platform integration, student safeguarding and interactive display personalisation.
Freedom From Admin
Reducing the burden of administrative tasks means educators can spend more time teaching and less time on paperwork. As administrative software applications come of age, the associated time savings are now a reality. Whereas education-based admin software development used to be highly fragmented, with a raft of small developers offering single, standalone applications, complete admin suites and learning management systems (LMS) are now coming to the fore.
These platforms can also be integrated into existing student information systems (SIS), a trend that will continue over the coming years. Solutions are now available that span homework, parent/student communication, seat planning, roll call, student behaviour management and financial services.
In the UK, the continued transition of English schools towards multi-academy trusts (MATs) is impacting market dynamics. With almost 1,200 MATs managing at least two schools, the demand for cloud-based infrastructure is rising, as this allows them to operate more effectively over multiple sites. This trend will only continue to grow stronger and is supported by nonprofit broadband consortiums like the London Grid for Learning.
When it comes to platform monetisation, some providers are offering a module-based approach, whereas others bundle all modules into one overall fee, hoping to encourage schools to consolidate the number of platforms used once their existing subscriptions end.
Digital Content and Student Safeguarding
Policing the access to digital content and ensuring the security of schools' data will attract more attention, but this field will also fill out to include student safeguarding, with an increasing focus on wellbeing and more granular content filtering. Many vendors have already launched products that address these issues, and as artificial intelligence (AI) begins to gain a foothold in education technology, the opportunities are expanding. AI's ability to learn, combined with advanced tracking, web filtering and real-time scans to detect concerns about bullying and depression, means that students' behavioural, medical and mental health requirements can be addressed more effectively.
Interactive Flat Panels Retain Relevance
"Interactive flat panel displays (IFPDs) are trending toward display personalisation, a particularly useful feature for teachers as they move between classrooms and flipped classroom models are becoming more popular," says Colin Messenger, senior analyst for interactive displays at Futuresource.
Features include teacher-specific presets for height, content and display configuration, and are often a tender requirement for schools in various countries. Onboard computing Is already a rising trend, particularly in developing markets like China, where many classrooms don't have a computer. Screen sharing with multiple devices will soon be ubiquitous, too.
These are just a few of the education technology trends that will strengthen over the next 12 months and beyond.
The EdTech Team at Futuresource Consulting have just published their complementary #Bett2020 Show report which is now available as a free download here.
Futuresource Consulting's evaluation and forecasting of the global market is carried out by a dedicated team of analysts conducting extensive primary research, analysing key market and technology trends across computing products, interactive displays, visualisers, software platforms, digital content and the Internet of Things.
We'd love to stay in touch, sign up for the Tech & Learning University team to contact you with great news, content and offers.
Thank you for signing up to Tech and Learning University. You will receive a verification email shortly.
There was a problem. Please refresh the page and try again.