McGraw Hill Launches Direct-to-Student ALEKS Program to Prevent "COVID slide"
Online math learning program can help learners to prepare for math placement test, get extra help over the summer, or refresh their skills before college.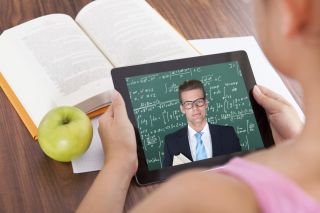 (Image credit: iStock/AndreyPopov)
A frequent challenge faced by incoming college freshman is the difficulty of college-level math courses. These courses have some of the highest failure rates of any subject—and this failure can jeopardize a student's ability to pursue certain majors or  academic standing. One reason for difficulty with college math is a lack of a solid understanding of  high school level math courses.
To help new college students, or anyone interested in sharpening their math skills, a new online math learning program from McGraw Hill can help learners to prepare for their math placement test, get extra help over the summer, or refresh their skills before returning to college. ALEKS MathReady is a direct-to-student version of McGraw Hill's personalized ALEKS program that is used by millions of K-12 and college students. The cost is $9.95 for the first month, $24.95 for three months, and $19.95 for each additional month after that.

ALEKS MathReady is a self-paced, online math learning program that is rooted in research and analytics. ALEKS identifies what topics students don't know and then focuses them on practicing topics they are ready to learn next.

For more information about ALEKS MathReady or to sign up for access, visit: http://bit.ly/ALEKSMathReady

ALEKS MathReady is intended for:
The COVID slide – For students whose learning has been disrupted and need to refresh their math skills before taking a math course or placement test in the fall.
Summer retention – For students that want to retain skills during the summer or between semesters without taking a formal math class.
Returning adult learners – For people retraining for a new career or returning to school who need to acquire foundational math skills or prep for a career, course or college.
Remediation – For students who failed a course and want to get help between semesters.
ALEKS MathReady is part of McGraw Hill's commitment to Affordability & Outcomes in higher education, ensuring students get affordable access to learning science-based programs that support successful outcomes for all learners, regardless of their prior knowledge or background.

"ALEKS saved me by helping me succeed in math," said Adrian Hernandez, a recent graduate of Triton College who will be starting at the University of Illinois, Chicago in the fall. "If I had access to ALEKS before starting college, my whole college math trajectory would have been different. Now that students can access ALEKS MathReady outside of their classes at a very reasonable price, that will really help them."

In 2019 and 2020, ALEKS won a total of five CODiE Awards for best-in-class online learning solutions in math and science, best summative and formative assessment and best college and career readiness programs. 
We'd love to stay in touch, sign up for the Tech & Learning University team to contact you with great news, content and offers.
Thank you for signing up to Tech and Learning University. You will receive a verification email shortly.
There was a problem. Please refresh the page and try again.