Latest Interactive Displays Aim to Promote Engagement & Focus on Learning
Connected interactive displays help to engage students and educators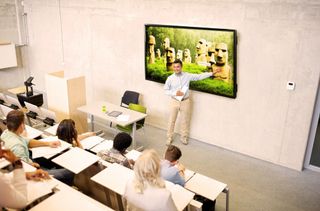 (Image credit: Phillips)
The role of technology is to solve existing issues in the classroom, benefiting both students and teachers in the process. 
Philips Professional Display Solutions has been conducting extensive research  in order to identify and understand what students and tutors need, consulting with educators from around the world in a bid to find a solution. 
The most important element is maintaining focus and engagement throughout, for everyone. 
According to some psychologists, the average student's attention span is between 10-15 minutes. With classes and lectures typically lasting between an hour and 90 minutes, the problem is evident. Incidentally, the figures for adults in a business meeting are almost identical (but that's for another time). Why is this? 
Distractions
In today's modern digital world, distractions come from all angles, particularly in our personal lives. Recent research shows that 30% of people in the UK now own five or more connected devices, including laptops, smartphones, smart TVs, tablets and, increasingly, smartwatches. 
With a growing desire for access to live, up to the minute information, linear or non-linear content and the opportunity to comment via social media (there are 350,000 Tweets sent every minute), our brains are becoming super stimulated and over active, making it difficult, almost unnatural, to concentrate on something singular. Switching from this state of multiple focuses to a mindset more appropriate for a classroom, traditionally demanding inactive silences and head-down notetaking, can be difficult. 
Improved learning through rich media
65% of the population is said to have a visual memory, indicating the need for more advanced visual presentation of information. 
Philips Professional Display Solutions believes interactive displays hold the key to providing the most effective and most inclusive solution, giving people the opportunity to absorb information in multiple formats, such as audio, pictures and video and ensuring classes remain creative. These findings helped the product teams at Philips Professional Display Solutions create their latest range of interactive education displays (T-Line). Teachers report that increased attentiveness and engagement are the top benefits of teaching with interactive display technology. 
Screenshare
Displays no longer need to be the centerpiece of the room. For students near the front, they were fine, but for those at the back, or for those with less than perfect eyesight, a single display can be problematic. Screen sharing allows students to wirelessly connect their own device (tablet, mobile, PC or laptop) directly to the display, ensuring a "front row" view wherever they are. 
Take note
Note taking comes at a cost, with students potentially missing vital parts of the lesson, while at the same time effectively removing themselves from the debate. The flow of a lesson can also be harmed, with tutors forced to pause while students catch up. 
With an interactive display, teachers can bring students further into the subject matter in real time, so they can discuss and participate actively instead of taking notes, with the added benefit that they remained engaged throughout. 
Video conferencing
Video conferencing platforms open new opportunities for students to interact with people outside the room, such as guest speakers. Likewise, students unable to make it to class can join in remotely and participate as if they were in the room. 
Instant feedback
Team members and students can provide immediate feedback (anonymously without raising hands) via interactive controls that they can use to ask and answer questions about the presented material. This allows the instructor to quickly identify areas of confusion and tailor the materials in real-time. 
Introducing new tech, instinctively
Introducing new technology into the classroom comes with uncertainty. Providing a solution that runs on a commonly used operating system and that can be easily integrated into the existing education software infrastructure is vital to enthusiastic educator buy-in.
The new T-Line range is designed for all levels of education, from Early Years, infants and juniors, through to senior schools, academies, universities and remote studies. Running on Android, the most used OS on the planet, the fear factor is removed, encouraging students to take part and removing any delays during setup, ensuring lesson times are maximized.
We'd love to stay in touch, sign up for the Tech & Learning University team to contact you with great news, content and offers.
Thank you for signing up to Tech and Learning University. You will receive a verification email shortly.
There was a problem. Please refresh the page and try again.