How to Make a Rapid Transition to eLearning (RTOL)
An essential checklist for Administrators and IT managers.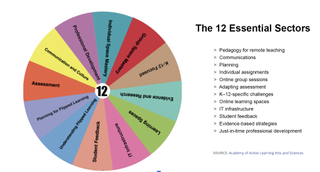 (Image credit: AALAS)
Just imagine if you were told today that your school will need to start teaching all classes online, from home, tomorrow… what would you need to know and do? You don't have to imagine that now, do you?
To keep students, teachers and families safe from coronavirus schools around the nation are considering shutting down and shifting to online learning.  More importantly many schools have already shut down and are scrambling to manage the sudden shift to remote teaching and learning.  From a public health perspective, this is a smart move, but what does it really take to move to distance learning "overnight."
All sorts of questions immediately begin to flow:
Where do you start?
What comes next?
Who do you need to contact?
What do you need to pull together?
Where will you find everything you need?
Who can you turn to for help?
Perhaps the hardest part of making a rapid transition to online learning in the middle of a crisis is creating a plan.
Based on our surveys of over 400 educators and administrators, university professors, IT managers, and instructional designer in 57 countries. There three essential needs: 
Our research found that "a plan" needs to consider 12 domains or sectors as indicated in the graphic below:
Below are excerpts from the plan the members of our global community are using that addresses these 12 sectors.
RTOL is a 12-step global roadmap developed for school districts, schools, and educators who need a proven guide and support system to rapidly transition to remote learning immediately. This quick start resource covers the 12 essential sectors and includes:
Rapid Transition checklist for administrators 
Rapid Transition checklist for IT managers
Full transition plan and video tutorial for teachers
Access to a Rapid Response Support Team
Below are two checklists excerpted from the RTOL Roadmap
The process ideally starts with school administrators and administrator leadership and support are essential. Without leadership educators will devise their own solutions which can lead to a mashup of varying tools and approaches for students to manage
Here is a checklist of the 12 top priorities and action items for school administrators.
Provide the plan and define expectations. 
Provide emergency training and resources to your staff
Coordinate with tech support.
Define the default platform for online learning - offer alternatives (see resource list).
Announce the plan, projected duration, and define the system for two-way communication during the school closure.
Communicate the plan to parents and students as early as possible.
Encourage teachers to adapt the plan for different age, groups courses, local conditions.
Point to additional teaching resources and support services.
Be flexible and ready to adapt the plan as needed in real-time.
Be available, communicate often, and through multiple channels (text, forums, Twitter, etc.)
Connect and share resources with other administrators. 
Expect surprises. Stay calm, carry on.
When all learning goes remote the IT manager role is more important than ever. The opportunity for frustration and stress increases. Here is a Checklist of the three top priorities and action items for IT managers
Connect with your school administrator to confirm the plan and priorities.
Identify and brief your RT team. 
Confirm which school services are remotely accessible and relay options to all staff.
Check for cloud services that can be immediately used to fill any gaps - (recommendations).
Prepare for increased demand for tech support requests.
Set up a priority system for handling request - convey the system to staff.
Provide a self-service option - a simple Wiiki page or forum or hashtag. 
Be prepared to adapt -- which IT policies are immutable, and which should be flexed.
Stay calm, be supportive, be flexible. Be a voice and source of stability and do your best to serve the increased number of people who are now dependent on you.
Find additional resources.  
RTOL is a free resource provided by the non-profit Academy of Active Learning Arts and Sciences.  You can access the complete program with checklist for teachers and professors, a video tutorial on remote teaching for just in time professional learning, and access to a global support team at aalasinternational.org
We'd love to stay in touch, sign up for the Tech & Learning University team to contact you with great news, content and offers.
Thank you for signing up to Tech and Learning University. You will receive a verification email shortly.
There was a problem. Please refresh the page and try again.