HoverCam Now Shipping Pilot X Digital Teaching Station
"The Pilot X is the first digital teaching station to truly put state-of-the-art interactive technology at teachers' fingertips," said Ji Shen, CEO of HoverCam.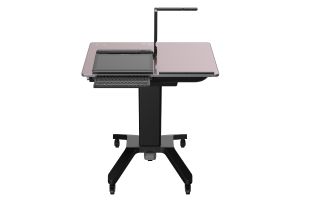 (Image credit: Hovercam)
HoverCam has announced that its new Pilot X digital teaching station is now shipping. The teaching tool enables teachers to interact with and share content to displays in the classroom without being tethered to a computer or display. The Pilot X combines a tablet computer with an Intel CPU, wireless 4K presentation capabilities, microphone, and a fold-out document camera in one wireless station.
With the HoverCam Pilot X, teachers and presenters can work from a mobile teaching podium featuring a slide-out keyboard. The 13-inch, 10-point-touch tablet can be unlocked and used anywhere in the classroom. The system includes HoverCam's 4K 13MP document camera that folds out. A built-in wireless HDMI transmitter beams content to any interactive flat panel, projector, or display in resolutions up to 4K, while HoverCam's ClassFusion software enables interactive whiteboarding and annotation for lesson recording.
More information on HoverCam and their full line of products is available at hovercam.com.
We'd love to stay in touch, sign up for the Tech & Learning University team to contact you with great news, content and offers.
Thank you for signing up to Tech and Learning University. You will receive a verification email shortly.
There was a problem. Please refresh the page and try again.