FLEXspace: How Higher Ed Institutions Share Campus Planning Resources
By Ray Bendici
FLEXspace, the free online resource, features hundreds of examples of learning spaces from around the world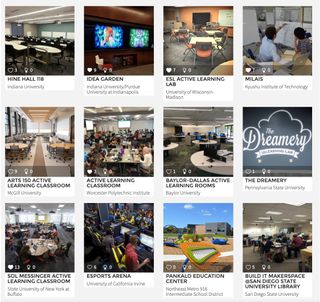 (Image credit: FLEXspace)
When campus planners look to restructure learning spaces, they often first turn to the web to find inspiration and research whether they should renovate an existing space or build a new one. Even though there's an abundance of professional showcases online, very few websites provide detailed examples of real-world higher ed education spaces, or offer a community of colleagues who can offer practical guidance and inspiration. 
Enter FLEXspace, the Flexible Learning Environments eXchange, a free online resource that allows users to document and showcase learning spaces, share resources and best practices, work collaboratively with campus partners, and connect with a worldwide community. 
The platform features images of hundreds of classrooms, lecture halls, computer labs, makerlabs, hallways, common areas and other active learning spaces, all of which are uploaded by users, who are educators with a higher ed or K-12 affiliation, says Rebecca Frazee, associate director of FLEXspace and a faculty member of the Learning Design and Technology Program at the School of Journalism and Media Studies of San Diego State University. Once users create an account, they can immediately browse, search, or filter results by areas of interest, such as by computer lab or lecture hall. 
Easy-to-use templates make it simple to upload images. Construction details, tech specifications, furniture information, and teaching elements can also be added. Users can also like other designs, and build collections and idea boards to share with planning teams. "We spent a lot of effort to make FLEXspace very user-friendly and intuitive," says Frazee. 
The toolkit area features research, evidence of impact, and research instruments. "For example, if a user wants to do post-occupancy study—'Was it worth it to build the room?'—tools are available to do that," says Frazee. 
Also available are planning guides and tools to organize a focus group or conduct a survey.
Growing Community
Currently, FLEXspace has nearly 5,000 registered users, representing 1,300 institutions from 65 countries around the world. The first-ever FLEXspace conference is scheduled for August 4-6 in Philadelphia.
"We had no idea when we started this that it would catch on as well as it has," says Lisa Stephens, executive director of FLEXspace and senior strategist, SUNY Academic Innovation, Office of the SUNY Provost. "When our small task group started presenting it at a couple of conferences, hands shot up immediately and people asked, 'How can we become part of this?' And we knew we had a tiger by the tail."
Stephens was part of the team that originally developed the platform for the SUNY system to determine whether the funds being spent on learning spaces were being maximized. The goal was to allow the three key stakeholders—the staff involved with pedagogy, IT and facilities—to all communicate and collaborate through an integrated planning system, Stephens says. 
FLEXspace has partnered with Educause and its Learning Space Rating System. Users can rate spaces using the LSRS, which can then be used to assess existing spaces. Strategic enrollment data can be overlaid in the process to better facilitate planning.
Once a user has the quantitative data, they can explore examples in FLEXspace, says Stephens.
"Some people have called FLEXspace a virtual field trip that allows you to see what other campuses have done," says Stephens. "It can be the glue to see what peers are doing and benchmark against that." 
More info: FLEXspace.org
We'd love to stay in touch, sign up for the Tech & Learning University team to contact you with great news, content and offers.
Thank you for signing up to Tech and Learning University. You will receive a verification email shortly.
There was a problem. Please refresh the page and try again.