Epson Announces Eight Education Display Solutions
The models, optimized for education, include both interactive and non-interactive displays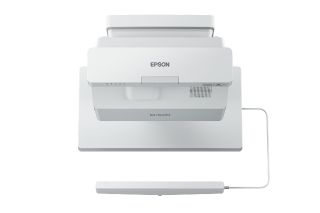 (Image credit: Epson)
While the coming still semester poses multiple question marks for educators, one thing is certain: A strong visual element in the classroom supports not only student engagement, but also improved learning. That's why educators and education technology leaders are interested in eight new laser display models from Epson.
The models, optimized for education, include both interactive and non-interactive displays:
Interactive:
BrightLink® 735Fi and 725Wi
Non-interactive (to pair with pre-installed interactive whiteboards for classrooms in need of long-throw solutions.):
PowerLite® 725W, 720, L200SW, L200SX, L200W, and L200X
Offering long-throw, short-throw, ultra short-throw and interactive models, and  nearly maintenance-free laser light source, the new displays support a variety of teaching environments.  
"Bright, engaging content is more important than ever as our teachers help students learn, whether they are in the classroom or learning from home," said Mark Hess, executive director for instruction, technology and assessment, Walled Lake Consolidated School District. "Epson is continually innovating to meet the needs of educators and that is why we have chosen their display technology for our teachers." 
Epson's new flexible laser display solutions offer the advantage, when compared to traditional flat panels, of freeing valuable whiteboard space when the projector is turned off. The BrightLink 735Fi offers ultra-wide 110-inch, 16:6 images supporting split screen and side-by-side viewing from multiple sources. Educators can present multiple streams and whiteboard displays simultaneously. 
"In today's classrooms, it's important for teachers to have these large and reliable displays to accommodate more spread out, social distanced classes,"  said Tom Piche, product manager, projectors, Epson America Inc. 
Epson's latest offerings also include non-interactive PowerLite models to pair with pre-installed interactive whiteboards for classrooms in need of long-throw solutions.
 Additional features on the new BrightLink and PowerLite models include:
Flexible image sizes – The BrightLink 735Fi projects Full HD content, ultra-wide 110-inch, 16:6 images or 100-inch, 16:9 images, offering up to 77 percent more viewing area than 75-inch flat panels
Budget-smart solutions – BrightLink interactive projectors offer the lowest-cost-image per square inch vs. interactive flat panel displays
Ultimate interactivity – The new BrightLink projectors offer dual pen- and optional touch-enabled interactivity4 for up to eight users to collaborate at once
Image quality – Displays bright, colorful, content from 60 inches up to 300 inches on virtually any wall
Wireless display – Built-in 5GHz Wi-Fi with wireless sharing via Miracast-enabled devices or Epson iProjection™ software allows educators to connect, display and share content simultaneously to/from up to 50 connected devices
Lasting reliability and durability – Virtually maintenance-free 20,000-hour laser light source with no lamps to replace
Fast, simple setup – Epson laser projectors turn on and off instantly, with no warm-up or cool-down period needed
Service and support – Epson's three-year, full-unit replacement limited warranty along with free technical phone support for the life of the product
The displays will be available fall 2020. For additional information, visit https://epson.com/projectors-education.
We'd love to stay in touch, sign up for the Tech & Learning University team to contact you with great news, content and offers.
Thank you for signing up to Tech and Learning University. You will receive a verification email shortly.
There was a problem. Please refresh the page and try again.