EDUCAUSE 2020: Call for Proposals
Community-generated program will showcase future directions, best practices, & Dx.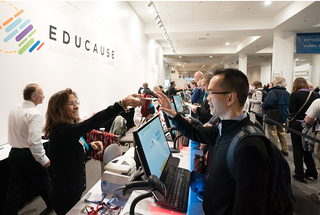 (Image credit: EDUCAUSE)
The premier higher ed technology event – the EDUCAUSE Annual Conference – is now open for 2020 presentation proposals.
According to the organization, "presenting at the EDUCAUSE Annual Conference provides an opportunity to build your professional network and experience lifelong learning with lifelong friends. The conference's community-generated program will showcase future directions, best practices, stories of successful collaborations, lessons learned, and solutions to community-wide issues within various program tracks."
Program Tracks
• Cultivating a Culture of Innovation and Change
• Delivering Trusted Insights and Innovation Through Data
• Enabling Research Discovery
• Exploring New Boundaries in Teaching and Learning
• Organizational Excellence, Leadership, and Partnerships
• Redefining the Enterprise for the Modern Age
• Security, Privacy, and Ethics
• Transforming the Student Experience
New in 2020! Digital Transformation Exemplar Showcase
Are you already on a Dx path? Do you have an exemplar project you want to share with others? EDUCAUSE invites Dx stakeholders to participate in the Dx Exemplar Showcase.
Learn more and submit via EDUCAUSE: https://events.educause.edu/annual-conference/2020/call-for-proposals
Source: EDUCAUSE
We'd love to stay in touch, sign up for the Tech & Learning University team to contact you with great news, content and offers.
Thank you for signing up to Tech and Learning University. You will receive a verification email shortly.
There was a problem. Please refresh the page and try again.