Data's Dominance: EDUCAUSE 2019 Wrap
Annual IT event explored how to diversify programs, innovate online pedagogy, and embrace the cloud, AI, AV, & esports.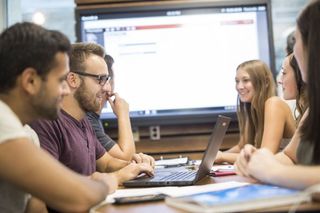 (Image credit: Future)
The recent EDUCAUSE 2019 in Chicago brought key stakeholders together from every corner of the higher education ecosystem. More than 300 panels and sessions covered a range of topics, from security to lecture capture, but common refrains were data's significance and strategies for improving student retention. Diversifying programs, innovating online pedagogies, and embracing the cloud, AI, AV, esports, and collaborative tools are some of the ways colleges and universities hope to attract and engage students. Here are some key takeaways from the annual gathering.
Wild Wild West: Data, Security, and Privacy
Commercial and consumer markets are becoming increasingly "data-driven," but where do data collection and learning analytics encroach on student privacy? Ethical data was a focus at EDUCAUSE 2019—on the expo floor and in breakout sessions. In "Privacy Matters: An Ethical and Regulatory Approach," Holly Drake and Marcia Ham explored the ethical implications of leveraging students' big data (geolocation, social media, and learner profile) to advance the mission of an institution. The presenters also provided tools for analyzing the risks and potential harm that can occur from big data from students.
A higher ed campus is a vast ecosystem of data—social security numbers, banking information, and medical reports. Hackers know it; that's why they are constantly targeting schools with ransomware, malware, and fishing. A college is a proverbial treasure trove of valuable information. Rick Haugerud, Michele Norin, and Sean Reynolds focused on security and ways to reduce technology risks in their EDUCAUSE session, "CIOs and CISOs Collaborate to Mitigate Cyberrisk: The OmniSOC."
With rigorous security precautions in place and an ethical framework around data, there is no denying that metrics can help stakeholders make more informed decisions.
AI: Smarter Pipelines
Artificial intelligence is being deployed to streamline myriad campus processes. At EDUCAUSE, Kokomo 24/7 showcased its AI-driven, cloud-based student safety platform. "The result for teachers, administrators and resource officers is proactive intervention to student safety incidents," said Daniel J. Lee, CEO of Kokomo24/7.
A bevy of AI-powered IT support tools (e.g., chatbots) demonstrated the power of machine learning to help personalize learning and pathways for students.
In their EDUCAUSE session, "Leveraging AI to Support Data-Empowered Learning," Benjamin Hellar, Bart Pursel, and Drew Wham examined applied AI as well as how to build an effective data science pipeline for higher education IT.
Pedagogy Before Technology
EDUCAUSE crystallized the importance of pedagogy-driven designs. Teaching styles and student interaction must be discussed and iterated during space planning and deployment, not as a result of room planning, or after the technology and furniture has been installed. The re-evaluation of both existing and new spaces should start prior to the room design. Ask: What are the goals of the room, what are the goals of the department, what are the goals of the program, and what are the broader goals of the school? How will digital tools and courseware complement the pedagogical goals? In "Time for Class: Digital Courseware Adoption in Higher Ed," D. Christopher Brooks, Gates Bryant, Kristen Fox, and Leah Lang shared strategies for implementing and scaling the use of digital learning tools in service of improved student outcomes.
UX & AI
Dr. Lance Ford, educational technology advocate for Cisco, pointed to a critical issue: the need for a uniform user experience (UX) among tech touchpoints on a campus. "Whether I'm live in a video call, or whether I'm recording my unit as a classroom teacher, it should all be the same experience for me," Dr. Ford said. "That same experience transports to my laptop and to my iPad with Cisco Collaboration. The education platform offer allows every teacher, like myself, to have unlimited recording with cloud storage. Now, it's all voice activated. So, when I'm in the classroom I can say: 'WebEx start recording.'"
Credentials, Tools for Online/Hybrid Learning, Alternative Tools
There is no "one size fits all" tech solution for the education market. This was reiterated by the staggering diversity of lecture capture and LMS-driven solutions on display at EDUCAUSE. Companies like 1Beyond showed their AI-driven PTZ solutions to help automate lecture capture environments.
Universities are rolling out diverse offerings such as hybrid courses that blend live lecture capture and pre-produced content delivered in an asynchronous learning environment. The evolution of hybrid courses may result in further development of fewer specialized technology classrooms, while also optimizing a standard infrastructure for all learning environments.
The steady rise of online education's popularity and perception is a double-edge sword for colleges and universities that are historically brick-and-mortar operations. For example, online-only schools' lower overhead costs often mean they can price their tuition lower than traditional colleges. But when those traditional colleges are public, it's tough for them to keep tuition low if they're in states with flat or declining higher ed funding.
Some EDUCAUSE discussions around lecture capture also included HDCP content and the distribution limitations by LDAP authentication. Clearly, compliance and accessibility are key.
Senior Technology Officer at Johns Hopkins University, Brian Klaas, addressed inclusion and policy effectiveness, implementation scalability, and approaches for "Universal Design" in his EDUCAUSE session, "Stumbling Forward: Creating a Culture of Digital Inclusion and Accessibility."
Credentials are also skyrocketing in popularity as institutions strive to meet the needs of nontraditional learners and working students. Credentials can be stacked as they are not tied to specific degree programs, per se. Students in the workforce are pursuing credentials to "upskill" and ascend the career ladder.
Rethinking Student Retention
Institutions are feeling extraordinary pressure to hit enrollment targets and keep students engaged. Whether it is a two-year, four-year, graduate-level, or credential commitment, organizations are seeking best practices, tech tools, and strategies to boost retention.
Esports: Digital Juggernaut & New Paradigm
Esports—competitive gaming by teams or individuals—is a fast-growing, billion-dollar industry. According to the Academic Esports Conference Chair, Chris Burt, "One of [esports'] fastest growing segments is in schools where the benefits for students are immeasurable."
At EDUCAUSE, esports was a major topic of conversation among CIOs and faculty as well as server, networking, and AV over IP vendors like Crestron, Dell, and VMWare. The EDUCAUSE Esports Experience was well received. Todd Harris, Jackie Stampalia, Jeanne Webber, and Rob Bailey presented esports tips, IT requirements, and esports case studies during "The Essentials of Esports in Higher Education."
If you missed EDUCAUSE 2019 in Chicago, recorded content will become available in mid-November. Visit https://events.educause.edu/annual-conference for more event information and to sign up for the EDUCAUSE Review.
We'd love to stay in touch, sign up for the Tech & Learning University team to contact you with great news, content and offers.
Thank you for signing up to Tech and Learning University. You will receive a verification email shortly.
There was a problem. Please refresh the page and try again.