Coronavirus and the College Campus: Study (Not So) Abroad
By Sascha Zuger
How college campuses around the world are responding to coronavirus and implementing tech-based solutions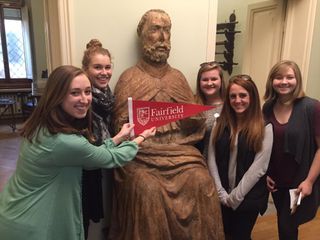 (Image credit: Fairfield University)
This is the first installment of a four part series on how college campuses around the country (and the world) are handling the challenges of Covid-19 Coronavirus. 
For most families, concerns about how the coronavirus will be addressed on campus lie back of mind as news develops. But for many students fulfilling a lifetime dream of studying abroad, schools have a strong and immediate message—come home. 
But how will they complete their studies? And how does a campus suddenly accommodate a slew of unexpected students who may or may not need to be housed outside of the general campus population? Tech to the rescue. Proactive college officials have entered prep mode creating tech solutions and infrastructures to keep learning forging ahead.
Come Home, Now
Universities managing students in study abroad programs in Italy, South Korea, Japan and China have made the tough call to cancel programs and bring their students home immediately. The call by decisive university administrations may have saved students a lengthy involuntary stay as borders are closing and air traffic is curtailed in affected areas.
"Students are stressed out because they are far from home. Their reactions range from upset they can't stay to relief, because there is this disease that is spreading and it's scary," says student Kevin Kryzwick of Fairfield University in Connecticut, of his early departure from Florence, Italy. "I'm disappointed because I have looked forward to this trip for years, but Fairfield did a great job making the decision when they did. Students can still complete their credits for the semester and stay on track for graduation."
Syracuse University is also closing its Florence-based academic program and will arrange for 342 students to return to the U.S., while Gonzaga University recently suspended its program in the Italian city, recalling 161 students. These might seem like small numbers, but considering the broad variety of American programs, these displaced students add up. Figures from the Institute of International Education 2017-18 academic year roughly totaled: Italy- 37,000 students, Japan- 8,400, China- 11,600 and South Korea with 4,000 students.
Schools are addressing how to manage half-completed courses that may be impossible to replicate once home. 
"The study abroad program in Florence is immersive and uses an experiential learning approach," explains Jenn Anderson, Vice President for Marketing and Communications at Fairfield University.  "When students return to Fairfield, they will be able to take a variety of courses here. They will be returning to campus no earlier than March 15. While there is not a federal or state requirement or standard for quarantine of any individual returning from Italy symptom free, Fairfield is requiring it."
Indeed, the timing is opportune both for ensuring safe return (before local foreign quarantines with questionable access to services sets in), and for a natural by-default quarantine period for those returning from affected areas. Returning students at most schools are restricted from campus until after spring break, more than the current two-week recommended waiting period. 
Others will only have remote learning options, even after returning. Gonzaga's Florence-based students will give students distance learning options to complete their courses, rather than returning to the Spokane campus. NYU—whose students recently joined together with alumni to form a virtual spliced together choir to support Coronavirus-affected Wuhan—shifted instruction at its Shanghai campus of 1,400 students to entirely online. Using a doubled digital capacity and tech tools like NYU Classes, NYU Stream, NYU Zoom and VoiceThread—a combo of real-time remote instruction, interactive lectures and recorded plans created 717 sessions the first week. The school also relocated 350 students scheduled to spend the semester in Shanghai to the New York and Abu Dhabi campuses.
Wait and See Approach
Some schools are taking a more moderate stance, combining tech solutions to provide distance learning options for students to learn from their residences at home or abroad as they wait and see how the disease progresses. Temple University Japan will suspend classroom teaching and conduct its courses online for at least two weeks beginning March 2, wrote Bruce Stronach, Dean of Tokyo-based TUJ, in an email to students obtained by The Temple News.
"We would like to stress that this a preventative measure," wrote Stronach. "Over the course of these two weeks, we will determine if conditions will allow us to return to regular classroom teaching. Please know that we continue to work with national and international leaders to track the COVID-19 virus and take every effort to ensure your safety and welfare."
We'd love to stay in touch, sign up for the Tech & Learning University team to contact you with great news, content and offers.
Thank you for signing up to Tech and Learning University. You will receive a verification email shortly.
There was a problem. Please refresh the page and try again.