Case Study: Sound Upgrade at The Latvian College of Culture
The college equips students to enter the labor market with both theoretical and practical knowledge of the production of local and international events.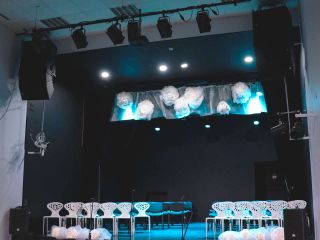 (Image credit: Latvian College of Culture)
The Latvian College of Culture (LCC) is part of the larger Latvian Academy of Culture and is described as "the best place to study creative industries" in the country. The most tradition-rich school of higher learning in Latvia, LCC stays on the cutting edge of technology to offer its students the most competitive, market-oriented education in the domain of culture. This includes an intense study program in cultural management that encompasses a wide array of specializations, from performing arts, photo and video production to technical production, media production and more. The college has a continuous and built-in effort to keep up with the times, which is why school administrators called on SGS Sistemas, Clair Brothers distributor in the region. Normunds Eilands and Guntars Bluss of SGS were asked to recommend the best loudspeakers for LCC's next upgrade of its audio production equipment. After evaluating the school's needs SGS recommended the Clair Brothers kiT12-i loudspeakers, and kiT-Subs to play a crucial role in the curriculum that LCC jumped at the chance. 
The school's diligent teaching staff makes it a point to maintain strong relationships with professional industry players. The college turns students into specialists by preparing them for, and equipping them with, the skills to enter the labor market with both theoretical and practical knowledge of the production of local and international events. Such skills come to bear in the students' selection and application of the latest technical equipment in the areas of stage design, concert and event sound production and lighting control. 
Along with the selected kiT12-i loudspeakers and kiT-Subs, the Clair Brothers PLM 12K44 power amplifier was also specified and installed. Other equipment chosen by the college includes a Lab.gruppen power amplifier; a Midas digital mixing console plus a Midas input/output stage box; Beyerdynamic wireless microphones; Clay Paky LED moving lights; Chauvet LED moving wash lights; and a Swefog haze generator, among other international brands. 
The Latvian College of Culture gives special thanks to the great team at SGS Sistemas. "Likewise," adds Eilands. "We appreciate our relationship with LCC and are always pleased to play a part in the development of education, offering the best for the students – the opportunity to use world-class sound equipment from Clair Brothers as chosen by professionals."
We'd love to stay in touch, sign up for the Tech & Learning University team to contact you with great news, content and offers.
Thank you for signing up to Tech and Learning University. You will receive a verification email shortly.
There was a problem. Please refresh the page and try again.