Case Study: Chattahoochee Technical College's Occupational Therapy Assistant Program
HoverCam's Pilot 3 opens up new possibilities for Chattahoochee Technical College's Occupational Therapy Assistant Program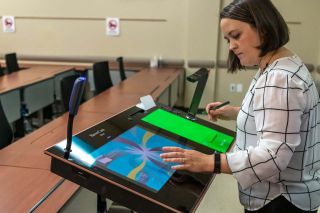 (Image credit: Chattahoochee Technical College)
Chattahoochee Technical College's (CTC) Occupational Therapy Assistant (OTA) program in Georgia is well-known for its competitive admissions process. It admits only 16 students annually and is one of only four OTA programs located in the state.  The school has a hands-on approach to learning that helps students find jobs with after graduation. Most recently, the school moved the OTA program to the Canton campus in Cherokee County from the college's Marietta campus. The move was a part of the school's mission to introduce students to more state-of-the-art technology and provide more space to simulate real-world environments for therapy. With that mission in mind, CTC sought the most innovative classroom solutions to aid instruction and keep the program competitive. 
"This profession requires students learn minute details that are incredibly important to helping patients function on a day-to-day basis, such as hand range-of-motion or anatomical landmarks on the hand," said Chattahoochee Tech OTA Program Director Amy Shaffer. "That's incredibly difficult to convey to the entire class without instructors taking considerable class time walking around to every person to demonstrate or having students gather as a group. But if you're in the back, you might miss a crucial element." 
The school considered a document camera, which would allow them to show documents, diagrams, or anatomy models as a way to get students closer to the action.  While attending a trade show to explore the options, CTC's AV specialist discovered HoverCam and the company's Pilot 3 digital teaching station. The Pilot  features a 13-megapixel 4K document camera combined with a Windows PC, large multi-touch screen, and a wireless HDMI casting with bi-directional touch—all in a mobile podium. 
The mobile unit allows teachers to move freely around the classroom and record and share lessons beyond the classroom. The wireless transceivers beam the podium's screen and touch annotations to any interactive flat panel, projector, or TV in HD resolution, eliminating the need to log onto the school's Wi-Fi network. With bidirectional wireless connectivity, annotations made on a room's interactive flat panel are immediately visible on the Pilot. Users can connect a PC, Mac, iPad, tablet, mobile devices, or other HDMI devices to annotate, record, or take snapshots of the content from the podium. 
"Students haven't just adapted to this radical way of learning but they're commanding it. They're conducting impromptu presentations that were previously only given orally and now can be expanded visually, using the camera features and onscreen writing tools," said Shaffer. 
We'd love to stay in touch, sign up for the Tech & Learning University team to contact you with great news, content and offers.
Thank you for signing up to Tech and Learning University. You will receive a verification email shortly.
There was a problem. Please refresh the page and try again.