AVoIP Technology Showcased in University of North Carolina Wilmington Facility
UNCW's new Veterans Hall is an AVoIP showplace thanks to extensive planning, preparation, and collaboration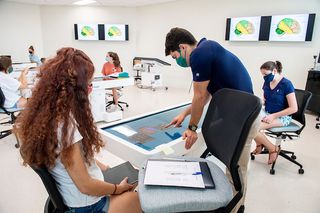 (Image credit: UNCW)
At 145,000 square feet of office, laboratory, and instructional space, Veterans Hall is University of North Carolina Wilmington's newest and largest academic building to date. Primarily housing the College of Health and Human Services, it also now serves as home for the Department of Chemistry and Biochemistry and the Office of Military Affairs. 
Veterans Hall is also the most technically advanced audio-visual installation on campus with our largest deployment of AV over IP (AVoIP) technology, leveraging five different solutions and more than 400 end points across the building's 16 instructional spaces, 29 conference and collaboration spaces, and 31 digital signs.
The driving design theory for the academic spaces in the building was collaboration. To start, Veterans Hall features five active learning classrooms to allow for students to be spread around the room's perimeter in collaborative "pods," in which they have a 55-inch monitor and a wireless collaboration solution. Using these, they can share their own devices, be it laptops or mobile devices, for group work. An instructor can then share a singular pod's screen to all others in the room, or push content from the lectern. 
For extra versatility, these rooms can also be reconfigured into a traditional lecture classroom, with student tables facing a "front" for the room with large projection screens.
The building also has four more lecture-style classroom spaces. These rooms also have steerable microphone arrays, a rear-mounted Pan-Tilt-Zoom camera, and a "Far Side" monitor on the back wall. As this is a significant amount of technology for an instructor to manage during a class, these rooms are supported by a central Distance Education Control Room, which is equipped with three technician terminals for live support.
The power of using AVoIP for these rooms grants extreme flexibility while also lowering overall cost, space needs, and power consumption. An initial design was done for the building using traditional means, but ITS classroom support staff, with the support of the CIO, made the final determination to use AVoIP for the building and helped lead the redesign efforts. This decision resulted in an overall project savings of nearly a half million dollars as compared to using point-to-point signal transmission and large video matrix switchers. Savings were reached across the board even with costs for equipment, infrastructure—including the additional costs of the eight 48-port network switches—and installation.
Using AVoIP also gives classroom support staff the ability to route any source to any destination in the building, which is an added bonus that would have been prohibitively expensive and technically unfeasible with traditional systems. Now, any classroom can be used as an overflow space for events happening elsewhere in a building. This also resulted in a reduction of needed equipment racks in a Distance Education Control Room, going from three full racks to one-half rack, a six-fold space savings.
Preparing for the future 
Obviously, all this technology is ineffective if faculty aren't comfortable using it. During the design process, UNCW ITS worked closely with faculty stakeholders, soliciting feedback on the pedagogical needs of each space to ensure the right solutions were being installed to meet those needs. To this end, the AV re-design lead was "in-house" and all of the system programming was completed by UNCW's full-time AV Systems Engineer.
Working closely with the faculty and using AVoIP also allowed for creative solutions for more unique spaces. The Rehabilitation Lab, for example, needed four monitors, two computers, three cameras—one of which is mounted on an articulated arm from the ceiling—microphones and wireless sharing capability. All of the video sources needed to be routable to any of the outputs around the room, and floor space was limited. Using AVoIP solutions and understanding the needs of the instructors, the entire AV system was distributed and hidden behind the monitors, meaning no AV equipment rack was needed.
Further bringing the collaboration mindset of the building into the design, a "proof of concept" room was built more than a year before the building opened so faculty could teach in an active learning classroom and provide feedback. Within ITS, the Integrated Educational Technology group worked hand-in-hand with the Networking department, as three new parallel networks were required in addition to the usual networking needs for an academic building. As a matter of scale comparison, for the core AVoIP solution UNCW used, the proof of concept room had 16 end points and one network switch, compared to 203 end points and 8 network switches in Veterans Hall itself. Normally, such an install would be fraught with setbacks, but close and constant collaboration led to a relatively smooth and issue-free deployment.
With all of these efforts, as well as close training and support, the systems in Veterans Hall were commissioned and ready for use by faculty already familiar with how they would work for the fall 2020 semester. The flexibility and forethought of the design proved key during the COVID crisis, as we were able to reconfigure the rooms to provide for proper social distancing among students and faculty, as well as support a massive spike in the need for remote-learning and distance education.
Richard Blaylock, CTS-I,  is the AV Systems Engineer – Integrated Educational Technologies for ITS at UNCW
We'd love to stay in touch, sign up for the Tech & Learning University team to contact you with great news, content and offers.
Thank you for signing up to Tech and Learning University. You will receive a verification email shortly.
There was a problem. Please refresh the page and try again.