3M Young Scientist Challenge Announces 2020 National Finalists
3M and Discovery Education congratulate finalists; announce 2020 shift to a virtual competition in response to COVID-19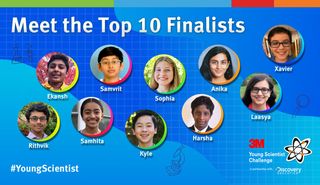 (Image credit: 3M)
With a pandemic virus on the loose, global warming proceeding unabated, Earth's growing population impacting a fragile ecosystem, ongoing war and poverty, we look to the next generation of scientists to lead the search for solutions to the problems of tomorrow—and today. Identifying promising young thinkers at an early age allows us to provide them with the tools and mentorship they need to become the young scientists and problem solvers of tomorrow. 
3M and Discovery Education today announced the top 10 finalists in the 2020 3M Young Scientist Challenge.
This year's finalists, four girls and six boys ranging in age from 12-14, identified an everyday problem they're passionate about and submitted a one- to two-minute video communicating the science behind their solution to solve the problem. An esteemed group of judges, including 3M scientists and leaders in education from across the country, evaluated entries based on creativity, scientific knowledge, and communication effectiveness. These young inventors won the top ten spots in this year's challenge with their innovative thinking, scientific acumen, and display of exceptional communication skills.
 In response to COVID-19, the 2020 3M Young Scientist Challenge is pivoting the final event from 3M headquarters in St. Paul, Minn. to an interactive virtual competition to be held on October 12-13, where finalists will be evaluated on a series of challenges and the presentation of their completed innovation.
"Inspirational moments of community are all around us and the need for action is clearly strong -- now more than ever, we are looking to the next generation to help improve the world we live in, and the 3M Young Scientist Challenge is a great platform for them to express what and how they want to see change," said Denise Rutherford, senior vice president of Corporate Affairs at 3M. "The 2020 finalists and state merit winners prove once again that young minds can combine STEM skills with imagination and creativity to identify and solve a real-world problem using science. They will undoubtedly build on their knowledge and experience with science to impact the future, and that is something for us all to embrace. We are proud of this year's competitors and remain committed to supporting STEM-for-all and building a path to a better life for everyone."
The top 10 2020 3M Young Scientist Challenge finalists include students from public and private schools across America. Each finalist will receive $1,000 and the opportunity to work virtually with a 3M scientist who will mentor them as they evolve their invention from idea to prototype. The grand prize winner will receive $25,000 and the prestigious title of America's Top Young Scientist.
The top 10 2020 3M Young Scientist Challenge finalists are as follows in alphabetical order by last name:
Laasya Acharya, Mason, Ohio, Mason Middle School, Mason City School District
Xavier Baquero-Iglesias, Naples, Fla., Community School of Naples, Collier County Public Schools
Anika Chebrolu, Frisco, Tex., Nelson Middle School, Frisco Independent School District
Rithvik Ijju, Englewood, Colo., Challenge School, Cherry Creek School District
Ekansh Mittal, Beaverton, Ore., Meadow Park Middle School, Beaverton School District
Harsha Pillarisetti, San Ramon, Calif., Windemere Ranch Middle School, San Ramon Valley Unified School District
Samhita Pokkunuri, Old Bridge, N.J., Carl Sandburg Middle School, Old Bridge Township School District
Samvrit Rao, Ashburn, Va., Stone Hill Middle School, Loudoun County Public School District
Kyle Tianshi, San Diego, Calif., The Cambridge School, Private School
Sophia Weiner, Rockledge, Fla., Holy Trinity Episcopal Academy, Private School
"We applaud 3M's leadership in fostering youth engagement in STEM through the Young Scientist Challenge," said Lori McFarling, President of Corporate & Community Partnerships at Discovery Education. "Inspiring young minds to address the world's problems through the application of STEM-thinking fuels the pipeline of tomorrow's passionate young scientists dedicated to improving the world we all share."
In its 13th year, the 3M Young Scientist Challenge continues to inspire and challenge middle school students to think creatively and apply the power of STEM to discovering real-world solutions. America's Top Young Scientists have gone on to give TED Talks, file patents, found nonprofits, make the Forbes 30 Under 30 list, ring the bell at the New York Stock Exchange, and exhibit at the White House Science Fair. These young innovators have also been featured in Good Morning America, The Ellen DeGeneres Show, The New York Times Magazine, Forbes, Business Insider, and more.
The 3M Young Scientist Challenge supplements the 3M and Discovery Education program – Young Scientist Lab – which provides no-cost dynamic digital resources for students, teachers, and families to explore, transform, and innovate the world around them. All the resources are also available through the 3M Channel and Community Partnerships Channel on  Discovery Education Experience, the digital service whose high-quality resources and instructional supports for educators are enriching student learning and extending it to the real world.
To learn more about the 3M Young Scientist Challenge and meet this year's finalists, visit youngscientistlab.com.
We'd love to stay in touch, sign up for the Tech & Learning University team to contact you with great news, content and offers.
Thank you for signing up to Tech and Learning University. You will receive a verification email shortly.
There was a problem. Please refresh the page and try again.