Top 5 Remote Teaching Tips
By Brian Nadel
What to do and not do when the camera is on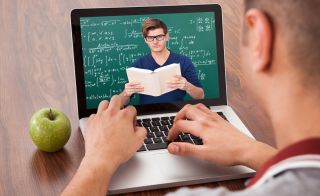 (Image credit: iStock/AndreyPopov)
In this age of Covid-19 social separation, students still need to learn and instructors need to teach. For most campuses this means a combination of online curriculum and video lessons delivered remotely. As in the classroom, the difference between a memorable lesson and an embarrassingly funny failure comes down to using your gear properly. 
Regardless of whether your school uses Skype, FaceTime, Zoom or Hangouts, making the most of the video technology is key. Here are my top five tips for teaching over a video link. 
1. Plan A, B and C
As is the case with a face-to-face lesson, put in the time beforehand to make sure you are not only authoritative but feel relaxed with the material. Many in-class lesson-plans can be used over video but I suggest you have at least one backup plan in case something goes awry. It's a good idea to set up a small whiteboard or computer screen near or behind you and if it's a lab, either set up two cameras or use one that can automatically pan and tilt so nobody misses the action. 
2. Location, Location, Location
Forget about balancing the notebook on a stool while juggling the teaching materials. Have a good, comfortable location where you not only have a stable place for the computer and camera but for your notes and lesson materials. It's important to find a place at home with a reliable Wi-Fi signal, so try it all out ahead of time. Make sure there's enough light or use a webcam that has its own lighting and be sure to aim the camera so it's roughly horizontal or pointing slightly down so your nostrils are not the star of the show. Those using a notebook, can raise or lower the lid to change the angle, but tablet users might need to prop it at the proper angle with an adjustable stand or stack of books. 
3. Hear Me
Most notebooks, tablets and phones have audio that sounds like you're in the shower. Make every word count with a standalone microphone or better yet, try a headset with a gooseneck microphone or wireless earphones. They can make your voice come through loud and clear.
4. Reinforcements
Unlike on campus where students are used to figuring out what the topics and assignments are along the way, video lessons require more upfront work and reinforcement. Have images and videos ready for the group to view and it's a good idea to set up a document camera nearby to show the class any pages in the textbook or just an old-fashioned checklist.
5. Networking
Finally, make sure that your home's broadband connection is strong enough to handle the needs of HD video. This generally means at least between 5- and 10Mbps, and a good way to test this is to use Ookla's Speedtest benchmark (www.speedtest.net). If your teaching location can't muster this, you have a few alternatives:
Try using an extender to push the signal farther into your home
Set up your phone as a Wi-Fi hotspot
Instead of Wi-Fi, try using a wired connection from the home's router
We'd love to stay in touch, sign up for the Tech & Learning University team to contact you with great news, content and offers.
Thank you for signing up to Tech and Learning University. You will receive a verification email shortly.
There was a problem. Please refresh the page and try again.