The Art of the Quick Shift to eLearning
Three Essentials for the Mid-Semester Transition to Remote Instruction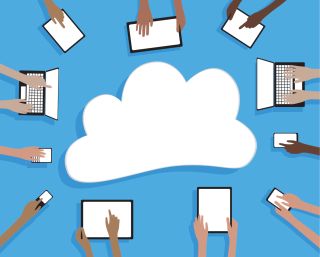 (Image credit: iStock/Pixsooz)
Historic. Unprecedented. Uncertain. Surreal. The COVID-19 pandemic has changed the world, seemingly overnight. The ways we teach, learn, work, caretake, and socialize are vastly different than they were two weeks ago as "non-essential" institutions close and strict social distancing measures take effect. 
Schools have quickly transitioned from in-person instruction to remote education, bringing both teachers and students into new ways of engaging. Distance learning platforms like Zoom, Adobe Connect, and WebEx, and LMS platforms like Canvas and Blackboard Collaborate, are helping to smooth the transition, but the magnitude of this change is tremendous. Moving coursework completely online is a culture shock for some, a liberating change for others, and a case study in adaptability. 
I am heartened by the ingenuity and empathy I witness in my colleagues and students at Franklin Pierce University (FPU) in New Hampshire, where I lead the Editing & Publishing internship course. FPU is proving to be exemplary model of the quick midsemester shift. IT, instructional designers, faculty, and staff are collaborating closely to implement new ideas in practice and bring coursework online while retaining educational quality. Hands-on Zoom and Canvas trainings, 1:1 advising sessions with instructional designers, and IT outreach efforts have made what seemed unthinkable last month a galvanizing point of pride for my colleagues. 
The past two weeks have also underscored the vital importance of soft skills. I believe that, as we move into fully digital learning spaces for the rest of term, relationships have become more important than technical features or functions. Here are three takeaways for instructors entering the brave new world of remote instruction.
1) Humanity Matters
Professors and students have been collaborating for months, and we have established rapport. Don't let this great digitization alter who you are or your unique pedagogical style with your students. As we swiftly transition from in-person to remote instruction, continue to be yourself, even behind the screen. Invite students to also bring their whole selves in the remote learning space. This might take the form of creating new kinds of discussion groups or facilitating Zoom-based discourse. 
In this time of tremendous uncertainty, many students are feeling anxiety, confusion, anger, denial, numbness, and stress. It's important to recognize that these are all normal responses to these unprecedented circumstances, and students will have different ways of reacting. Honor where they are and check in with students when you can. If your university is offering new forms of online wellness or telehealth services, let students know. My students are a hardworking bunch—many of them hold down at least one part-time job, in addition to their studies. Let them know you're on their side. 
Key takeaway: Advocate for your students, check in with them, meet them where they are.
2) Balance Routine and Flexibility
Most of us are working from home now, but for me a useful practice is keeping a similar schedule and routine as I did when I taught on campus to cultivate a sense of continuity.
I also apply the same rules to my home office as my campus office, making note of what students and colleagues see and hear during our sessions. Also plan on calls dropping or getting disconnected. It will happen. If your WiFi is subpar, try to stay hard wired. If not, move close as close to the Wifi router as possible.
Key takeaway: Craft a plan but stay flexible. Mentally prepare for technological hiccups—people will get disconnected during a real-time collaboration or lecture.
3) Practice and Model Empathy
In the race to move classes online, it's necessary to take a brief moment to re-calibrate. Assess your own strengths and limits when it comes to distance learning. Do you need more technical training? Would another pedagogical module help? Are students coming out of the woodwork with new requests or accommodations? Are you able to model the collaborative behavior you hope to see in your students, especially during challenging times? 
Review the remote learning basics with your classes, such as reminding students to check their email multiple times a day, making sure important doesn't get trapped in Spam. 
While there is no one perfect solution, and different learning objectives will naturally call for specific methods and modes of assessment, make sure your online course is giving students what they need right now. 
Operate with empathy. If your institution will allow, find ways to give your students leeway, such as moving to Pass/Fail. Many of our students are living through their first crisis, and are likely to feel incredible pressure—worrying about their family members and or financial uncertainty. I strive to put myself in my students' positions every day.
Also, despite their digital fluency, making the shift to being online learners is challenging for some students. Personalize your content—whatever and wherever you can. It will take more effort, but it's worth it. 
Timing is important for distance learning, but again, it is a balancing act. If there is a discussion thread, encourage students to respond in a timely manner, but remember that this is a highly unusual moment for everyone, and we must be flexible. 
Perhaps now is an opportunity to multimodality into a course. Some students might feel more comfortable recording an audio response or making a video response to a thread rather than writing out their explication or analysis. Experimenting and taking creative risks may even be beneficial, sparking new forms of creative synthesis for students. 
Key takeaway: Manage expectations while meeting learning outcomes, personalize the experience, practice patience.
I've been researching and working with distance learning modalities and digital pedagogies ever since 2011 when MOOCs (massive open online courses) dominated the headlines. What I've observed in the past two weeks is putting the last decade of edtech in a new context: the coronavirus is disrupting daily life—and indeed endangering life—but it's also creating opportunities to chart new pathways for student-centered pedagogy in a time of crisis.  
Margot Douaihy, PhD, teaches at Franklin Pierce University.
We'd love to stay in touch, sign up for the Tech & Learning University team to contact you with great news, content and offers.
Thank you for signing up to Tech and Learning University. You will receive a verification email shortly.
There was a problem. Please refresh the page and try again.