Six Essentials for Integrating Video Walls in Higher Education
By Tim Griffin
Universities are looking at how video walls and digital displays can increase efficiencies.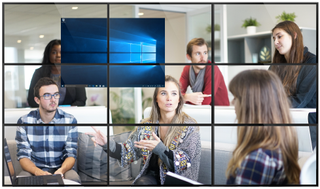 (Image credit: Userful)
Colleges and universities view preparing students for the digital age as a key part of their mandate, hence higher education administrators are increasingly emphasizing digital transformation and immersive multimedia experiences as part of their campus-wide initiatives.
Determined to generate competitive differentiation—with the bottom line, top of mind—colleges and universities are looking at how video walls and digital displays can drive efficiency while reducing operating expenses. Video walls have become a crucial enabler to achieving the various business goals of institutions that have committed to going digital.
Here are six essentials for higher education institutions to consider when selecting and integrating a video wall and display solution.
User Experience (UX)
Traditional visual communications solutions require extensive setup and training to operate and require many hardware components that are expensive and prone to failure. It can be challenging for administrators to set aside time to learn how to manage and maintain video wall technology. Therefore, when selecting a solution, it must be low-maintenance, easy to use and seamlessly integrate with legacy AV. A new generation of solutions exist where there is literally no hardware between the on-premise server and the display. This software-only solution makes it dramatically easier and less expensive for administrators to deploy, operate and maintain video walls.
Central Management
Video walls are infinitely adaptable to multiple applications. In the higher education sector, operators require a flexible solution to power all visual communications requirements throughout campus. In addition, most university campuses include multiple buildings, which can complicate the installation and management of video walls. Central management enables administrators to manage an entire system of video walls from a single location and is available with today's video wall solutions.
Zone Layouts and Presets
Layout options and support for multiple, simultaneous sources give administrators flexibility when deploying video walls. In one use case, the video wall can display still images, video and schematics of a building for an architecture class; in another, it can present a single, dazzling image in the reception area of the schools' administration building.
Content Scheduling and Real-time Interactivity
Dynamic environments like higher education need to constantly rotate their content and convey different messaging throughout the day. Handling this manually is inefficient. Today's video wall solutions should include scheduling features, through which administrators can predetermine content changes at certain times during the day or week. Current solutions should also enable administrators to make changes on the fly; e.g., for screen sharing during a lab, for example.
Network-based
Many organizations seeking high-performance video walls turn to proprietary servers or controllers. All too often, the results are disappointing: a high price tag for a complicated solution that is difficult to manage and isn't able to grow with the customer's needs.
Today's advanced video wall solutions use a standard PC/server and/or can integrate with an institution's cloud-based data repositories. They also integrate with an institution's existing network infrastructure enabling administrators to quickly and easily integrate content from multiple sources.
Total Cost of Ownership—The Bottom Line
Administrators should classify video wall solution providers by whether they provide hardware-based or software-based solutions. Hardware-centric solutions include thin clients, media players, cables, extenders and other hardware as part of their solution. Software-centric solutions remove all hardware between the server and the display. Hardware solutions tend to be more expensive, less reliable and significantly less flexible; i.e., upgrades require purchasing new hardware. Software solutions are less expensive, easy to troubleshoot and infinitely upgradeable via software updates. As a result, administrators that deploy software-based video wall solutions can enjoy a total cost of ownership (TCO) significantly below that of hardware solutions.
As colleges and universities continue to modernize communications to better serve and engage with their community, video walls are increasingly becoming a key centerpiece of digital transformation (if the price is right) and we only see this trend continuing to grow for years to come.
Tim Griffin is the Chief Technology Officer and founder of Userful Corporation.
We'd love to stay in touch, sign up for the Tech & Learning University team to contact you with great news, content and offers.
Thank you for signing up to Tech and Learning University. You will receive a verification email shortly.
There was a problem. Please refresh the page and try again.