How Ventilation Systems are Being Upgraded for Back to School
By Erik Ofgang
School ventilation systems are being upgraded to better protect students and staff by integrating new technologies and processes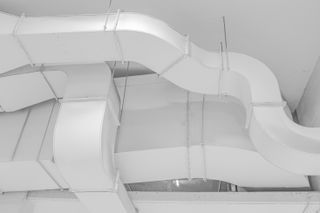 (Image credit: Unsplash: Mitchell Luo)
Recently 239 leading scientists published an open letter citing evidence that the coronavirus can float in the air and urging the World Health Organization to revise its guidelines. The letter confirms what facilities managers at universities already believe: Ventilation systems will play an important role in the fight against COVID-19 infection when students return to campus. 
To limit the chance of spreading the virus in classrooms, university leaders will want to make sure they are bringing in as much outdoor air as is safe for each of their buildings and filtering as much of that air as possible. "If you have more outdoor air there's evidence to show occupants will have less health symptoms, they'll be more productive, and they'll have higher levels of satisfaction," says Andrew Persily, chief of the Energy & Environment Division at the National Institutes of Standards and Technology U.S. Department of Commerce. 
But it's not quite as straightforward as it sounds. If you are bringing in air that is humid or polluted, you can cause indoor air quality issues and do more harm than good, Persily warns. He adds that school facilities managers need to analyze and play to the strengths of the existing heating, ventilation, and air conditioning (HVAC) systems within each building on campus. 
"Don't get fancy, get basic," Persily says. Start by assessing system capacity and asking questions such as, "How much outdoor air can the system handle?" "How much moisture can it handle?" and, "Can it handle the added pressure caused by higher-rated filters?"
Cleaning the air
Mike Kopas, senior director of facilities and capital planning at Purchase College SUNY, agrees with Persily. Most of the 40-plus buildings at Purchase have older HVAC systems that can't handle the highest-rated filters that are most adept at catching particles of various sizes. So Kopas and his staff will work to make the systems they have as efficient as possible. "We're going to go up as high as we can, and we're going to do more frequent filter changes," he says. 
Along with its ventilation efforts, Purchase is planning to buy several portable CASPR Medik ultraviolet air purification systems. The light units kill viruses in the air and surfaces with UV light. 
UV purification systems can be built into HVAC ductwork, but Kopas says the mobile units, which retail for about $1,500 each, are an affordable option in an era when "Everyone's revenue is severely down." He adds that unlike UV systems built into the ductwork, the portable units provide a visual element of comfort for those on campus. "It's something that the faculty, staff and students can see," Kopas says. 
Less people, cleaner air
In addition to technical solutions, universities are relying on crowd control to help their HVAC systems function in a safe manner. Since many universities are limiting the number of students on campus at any one time, indoor air quality will likely improve on its own. 
"Less people with the same outdoor air is more outdoor air per person," Persily says. "If you keep the outdoor air where it was and you have 25 percent less people, you increase the factor of outdoor air by a factor of four without doing anything." 
At Purchase, dorms will be limited to 25 percent capacity. Kopas says his technical ventilation efforts are meant to work in lockstep with behavioral-based safety precautions. "I think you're making a huge mistake if you're just concentrating on one or the other," Kopas says. "It's got to be a package deal." 
We'd love to stay in touch, sign up for the Tech & Learning University team to contact you with great news, content and offers.
Thank you for signing up to Tech and Learning University. You will receive a verification email shortly.
There was a problem. Please refresh the page and try again.