How to Transition to Virtual Learning from Video Learning
By Ellen Ullman
UMass Boston is increasing its virtual learning capabilities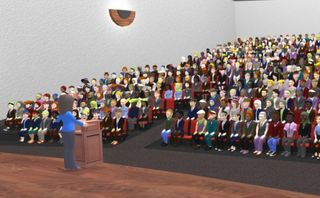 (Image credit: Virbela)
Immersive reality (IR) is becoming more accessible, especially at the University of Massachusetts, Boston, where the staff is piloting a browser-based IR world using VirBELA Open Campus. 
"IR started with virtual reality (VR) and augmented reality, and now it's evolved into IR," says Ray Lefebvre, vice chancellor and chief information officer at UMass Boston. One of the best things about IR, he says, is that you don't need an expensive headset like you do for most VR. Instead, you can use a computer monitor or laptop screen to participate in an IR world.
In an IR world, you create an avatar and move around a virtual environment. For faculty and staff at UMass Boston, they can go into virtual offices, meeting spaces, and libraries to communicate, engage, hang out, and learn. "I think this could reinvent higher education," says Lefebvre. "An immersive reality platform will help us to make sure we truly connect with today's digital native students."
Lefebvre got started by testing Open Campus earlier this year after participating in a CIO panel about coping with COVID and discovering that another college was exploring IR. 
Within the IR world, the UMass Boston team has access to 36 offices and four conference rooms, including an IT office suite with a reception area. Lefebvre holds staff meetings in the small IT conference room. He can walk around, sit in a chair, talk to staff via the audio capabilities, share his screen, and upload content.
Although the college isn't using IR for teaching and learning just yet, the platform is being piloted to see how students and faculty might use it in the fall and beyond. Earlier this summer, the platform was used for an IT art project. 
"Each year, our IT student workers take photos on campus and we showcase their work in one of our galleries," says Lefebvre. "This year, we created a gallery and showed the photos in our IR world. People can come to the IR gallery and check out the photos as if they were in the physical gallery."
Creating Opportunities
As word of mouth spread on campus, the School of Nursing has reached out and wants to use the platform for poster sessions and possibly for welcome sessions. The History department is also considering the platform. 
The IR world offers customizable classrooms that can be configured in multiple ways, from small groups to workstations. An auditorium that can be accessed by up to 150 avatars is available, perfect for larger lecture-style courses or events.
"We've discovered a lot of use cases for this—everything from hosting meetings to offering tech support," says Lefebvre. "It also seems like a great way to get students engaged."
For now, he's content to host meetings in the IR suite and be available for nonscheduled chats. "Pre-COVID, people stopped by my office all the time," says Lefebvre. "I've been starting my day by sitting in my virtual office and people walk over and we have great drop-in conversations—no dialing, no calendars, no setting up a Zoom."
Open Campus pricing starts at $100 per month for 10 users, but there's also a free version to explore. Other vendors in the space include Vectorform and Mursion, and Lefebvre encourages anyone interested to do their research and explore each one.
We'd love to stay in touch, sign up for the Tech & Learning University team to contact you with great news, content and offers.
Thank you for signing up to Tech and Learning University. You will receive a verification email shortly.
There was a problem. Please refresh the page and try again.