How It's Done: Using Esports to Engage Future Students
By Sascha Zuger
Esports and prospective students, a winning team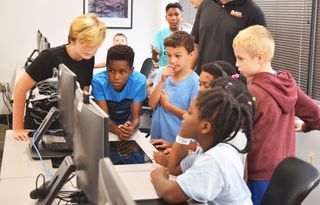 (Image credit: Howard Community College)
The growing field of Esports is a natural gateway to careers in STEM fields. Offering a safe, engaging program attracts future talent and offers young participants a taste of what they could experience at the college level.
We chat with Elizabeth Watson, the Senior Director of Continuing Education at Howard Community College, about one successful Esports program that is getting kids excited about a future at her school and in this exploding industry.
Who: Kids on Campus at Howard Community College
Where: Howard Community College, Columbia, MD
What: Using Esports to Engage Future Students and Explore STEM Careers
The Howard Community College Kids on Campus program is well-known in the community for providing exceptional experiences that go beyond what students receive during the school year. Our leadership team always has a strong pulse on up and coming trends and innovative programming ideas. Black Rocket, one of our partners, recommended that Kids on Campus offer an Esports class. We were thrilled to incorporate it into our program.
Whether students want to be the next pro gamer, streamer, or gamecaster, Esports is more than just a hobby, it's a fast-growing next gen career with an annual audience of over 400 million people on YouTube/Twitch streams alone. Howard Community College's Kids on Campus takes part in a league of 25,000 students designed to develop game-play skills and compete, learn how to produce commentary for live tournaments, use professional streaming software, and practice online safety. More than just playing a game, they learn to build the game.
Students were immediately drawn to the course. Enrollment has been strong, and the courses have all filled. We highlighted it throughout our marketing campaign and in outreach materials. Having engaging courses like this introduce our school to prospective students and give them a taste of what we have to offer at the same time as exploring potential future STEM careers.
Biggest Challenge
Fortunately, we haven't had any big challenges The implementation has gone smoothly, and we have been excited with the success of the classes. We worked with Black Rocket to ensure that the necessary programming materials and set up was in place.
Positive Results
Students are engaged in class and excited about competing against teams from other states. This class provides students with the opportunity to use new technology and software. Students develop competitive game-play skills in Black Rocket's new Esports App, learn how to produce commentary for live tournaments, use professional streaming software, and most importantly practice online safety. They also gain full access to the Esports App and receive a video of their class tournament with commentary.
Esports interest will continue to grow at Howard Community College with the launch of Maryland's first-ever community college Esports team this fall. The college is a member of the National Association of College Esports (NACE), a varsity Esports organization with nearly 150 member colleges and universities.
Finding Funding
Program funding is supported by course tuition.
Pro Tips
One tip would be to include information about the safety aspects of Esports through the course. We have found this addition has been welcomed by parents.
Tech Tools
OBS for streaming and editing
Sembly Game
Battle Royale
Rocket Kart Racer
Microphones
Cameras
We'd love to stay in touch, sign up for the Tech & Learning University team to contact you with great news, content and offers.
Thank you for signing up to Tech and Learning University. You will receive a verification email shortly.
There was a problem. Please refresh the page and try again.