How It's Done: The Online Civic Engagement Tool "Passion to Purpose (P2P)"
By Sascha Zuger
The online civic engagement tool helps K-12 students and undergrads to find their purpose using their passion.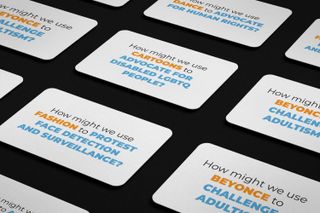 (Image credit: Mindy Faber)
Ah, college. Many students' first taste of true independence—a time to discover worthy causes and personal philosophies about how things are and how they should be. Teens and young adults are anything but short on passion for the ideals they believe in, but often don't know how direct that heart in a way to productively help. A new online civic engagement tool guides them on how to pair their passions with their purpose to really make a difference in the world.
We chat with Mindy Faber, Director of Convergence Design Lab at Columbia College in Chicago about creating the digital tech tool.
Who: Convergence Design Lab at Columbia College
Where: Chicago, IL
What: Creating the online tool "Passion to Purpose (P2P)" as part of a Civic Imagination Toolkit for undergrads and high schoolers.
Passion to Purpose (P2P) is a free open-source and delightful online tool that lets learners flex and grow their civic imagination muscles. Users are guided through a series of fun prompts (eg: What do you geek out about? What do you want to protest?). With the aid of a built-in randomizer, they land on an unexpected "How might we" question. Think of it as a brainstorming tool on steroids that helps learners launch their own inspired project for media action and civic change.
Passion to Purpose grew out of a middle school brainstorming activity using dice. The analog version of the game worked so well that we began to think about how it could help educators and mentors guide older students to build their own projects through ideation, collaboration, feedback, and iteration. It's the first game-like module in an integrated suite called the Civic Imagination Toolkit being developed by Convergence Design Lab. Our mission is to help educators cultivate civic participation. The Toolkit includes a Facilitator Guide to adapt the tools for a project-based learning classroom or workshop context.
Positive Results
The project is unique in that it is not about big tech industry folks creating tools in a top-down commercial way. Rather, this is a learner-centered and student-led project designed with the needs and interests of under-resourced urban youth in mind.
"Throughout my education, I've always seen people be resistant to applying their knowledge or interests to the real world. Exams were expected, but people would struggle when asked to think about real world applications.This tool helps people overcome that. The first big game I ever made was one designed to help autistic children learn verbal cues. I've been interested in tools and games that help and teach people for a long time."
—Henry Hoare, Columbia College student
Biggest Challenge
We needed to create a tool that can both stand on its own and as something that could fit into a facilitated experience in a classroom. We tested with students to make sure the tool was fun and clear for someone using it on their own. We then started a facilitator guide to share activities that could fit into a curriculum and make Passion to Purpose come alive as a social tool to spark discussion, brainstorming and new civic projects.
Pro Tips
One tip would be to prototype and test as early as you can, and as often as you can, with whatever supplies you have on hand. Passion to Purpose started as a paper and pencil game involving rolling dice to generate random combinations of your passions and your purposes. Only after we tested that version with students did we turn it into a digital tool.
Finding Funding
To build Passion to Purpose, we engaged two undergraduate students as paid interns in a year-long participatory design process. We see these interns as near-peers for the target audience which consists of other high school and undergraduate students. Convergence covered one internship, while the Dean's office in the School of Media Arts paid for the other.
Tech Tools
PassionToPurpose.io
HTML/CSS/JavaScript
Google docs/slides
Figma
Adobe XD
Trello


Explore the program at PassionToPurpose.io — ConvergenceDesignLab.org
Designed by: Mindy Faber and Margaret Conway, Convergence Design Lab
Michael Hadley, Learning Product Developer and Lecturer, Columbia College Chicago
Student Intern Designers: Henry Hoare and Lorelei Miyamura, Interactive Arts and Media
We'd love to stay in touch, sign up for the Tech & Learning University team to contact you with great news, content and offers.
Thank you for signing up to Tech and Learning University. You will receive a verification email shortly.
There was a problem. Please refresh the page and try again.