How It's Done: Putting the Students Before the CART
By Sascha Zuger
Strides in technology have helped level the playing field through lecture recording, real time captioning, note-taking assistance, read-aloud software and more.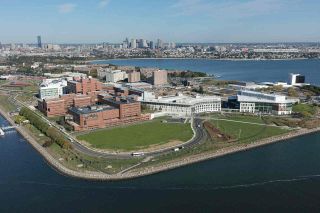 (Image credit: University of Massachusetts )
Students of all abilities deserve a full and enriching academic life at college or university. Fortunately, strides in technology have helped level the playing field through lecture recording, real time captioning, note taking assistance, read aloud software and more. 
We chat with Joyce Morgan, Director of the Ross Center at University of Massachusetts Boston, for tips on how to get accessibility tools in the hands of students. 
Who: Ross Center at UMASS Boston 
Where: Boston, MA 
What: Using Tech to make Learning Accessible 
We offer solutions for many students who may find accommodations helpful on campus. We work with a CART [Communication Access Realtime Translation] company, so we contract them to provide realtime remote captioning in classrooms. The student simply downloads the program onto their computer, opens their laptop in class, turns on their camera, microphone and the company transcribes the class while the students is sitting in class so they can follow along and participate along with their fellow classmates. Students have the option to have a live professional captioner join them in class, but most often they prefer the remote service. The company specializes in college level classes for a seamless experience. Some of our classrooms have built-in technology, like Echo 360 or other recording/lecture capture services. We can link into that system and students can access it at any point through their computer. 
For sighted students, was also offer Note Taking Express. They can record a lecture and send it to the program and they will return it as a printed outline of class notes. Our on-campus Adaptive Computing Lab (ACL) helps students access tools found on their Apple, Microsoft, Android and other tech items. Students who might need temporary help due to an injury or illness can visit the ACL without registering. This is also where students can come to download university-owned Zoom Text, a program that allows students to have things read to them. 
Positive Results
CART (AI Media) has been a wonderful service for our students who struggle with any sort of hearing loss. They are able to follow along and fully participate in class. In some cases CART provides transcripts for students to access later, for those with recordings they can go back and flesh out their notes for anything they might not have absorbed during the class. There are a lot of indirect supports that it provides for our students, so we found it beneficial in many aspects.
Biggest Challenge
As the technology gets better and better, it's gotten easier and easier to provide services. For students who haven't used it before there is a bit of a learning curve. We work with them teaching how to access what they need, explaining the variety of technologies we may recommend. Our biggest solution is to let faculty know in advance that this is happening in their classroom. If they miss a class, we might provide that video lecture capture to the student so they can see the material on the board or work with them to see if we can borrow notes from another student in the class.
Pro Tips
I would suggest counseling any student who had accommodation of this sort in high school or who thinks they might need them in college to coordinate with their disabilities services office on their campus as soon as they choose their classes. At the college level, students can choose whether to use the services or not, so they might want to try college out without them. It's important to invite them to come in, meet reps, discuss what options there might be and all the accommodations and resources that might help — all schools are different so they might be surprised at what could be useful. If they have an understanding how to access the tools, and register so that in the event they want to make use of them at any point, the process will be smooth with all the documentation filed and in place. We also offer drop-in hours to make connecting with a counselor or rep as convenient as possible.
Finding Funding
Funding is built into the Accommodation Services budget.
Tech Tools
Cognitive/Perceptual Technology
Comprehension and Attention Tools
Kurzweil 3000
Read Write Gold
Natural Reader
Writing Tools
Inspiration Mind Map
ClearEdits Grammar Editor
Dragon NaturallySpeaking Dictation English Version
Dragon NaturallySpeaking Dictation Spanish Version
Vision Technology
Access and Fatigue Reduction Tools
Jaws Screen Reader
ZoomText Magnification
Duxbury Braille Translator
Juliette Braille Embosser
Large monitors
Dimmable lighting
Mobility Technology
Access and Fatigue Reduction Tools
Adjustable tables
Click -N- Type on-screen keyboard
On-Screen keyboard
Alternative input devices
Ergonomic keyboard
We'd love to stay in touch, sign up for the Tech & Learning University team to contact you with great news, content and offers.
Thank you for signing up to Tech and Learning University. You will receive a verification email shortly.
There was a problem. Please refresh the page and try again.