How It's Done: Digital Learning and Innovation at Boston University
By fostering innovation, Boston University smoothly transitions to digital learning and prepares students for their future success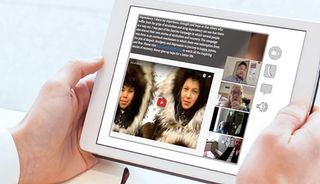 (Image credit: Boston University)
Long before COVID-19 drove students and faculty away from campus, Boston University (BU) made a commitment to digital learning and innovation, which has allowed the institution to quickly shift to remote learning during this crisis. Chris Dellarocas (right) leads the activities that have accelerated the use of digital technologies throughout the campus. Working with schools and colleges within the university, Dellarocas collaborates with other leaders to introduce new leading-edge technologies that further university goals as a global research institution; improve faculty teaching experiences; and increase student engagement and success—from a hub for digital learning and innovation.
As BU's associate provost for digital learning and innovation, Dellarocas also provides guidance to the on-campus Center for Teaching and Learning, the Educational Technology team, the Office of Distance Education, and facilitates campus-wide experiments in digital learning through the Digital Education Incubator grants program.
"Colleges have traditionally focused on short-term goals, such as helping students successfully finish the semester with little time or training to focus on new ideas for the future," said Dellarocas. "The role of our office is to determine how the university needs to change to help our students meet their future with success."
Changing Pedagogy for New Learning Outcomes
Technology is transforming pedagogy and pedagogical innovations, which help BU retain its position as a world-class educational institution, even during a period of immense change such as we are experiencing now. It is because BU has been forward thinking in piloting new technologies, training staff and faculty how to innovate using technology, and experimenting with emerging and hybrid pedagogical strategies, that they are able to make such a rapid transition to remote learning.
Dellarocas believes there is a difference between online and remote teaching. Online teaching is asynchronous with students attending classes and completing assignments and assessments on their own schedules. For remote teaching, instructors use platforms such as Zoom to deliver synchronous face-to-face sessions with multiple students. By recreating the classroom structure from a distance, shifting to remote teaching is actually a smaller leap for faculty and easier to adapt to than online teaching.
However, BU is also pushing the boundaries of online teaching. The institutions is currently partnering with edX to launch a revolutionary, affordable online MBA program. BU's goal is to offer an online MBA for $24,000, which is a quarter of the cost that most higher ed institutions charge. The program is being designed to accommodate a very large group of students.
While actively promoting innovation for university faculty and staff, Dellarocas and his team are also evaluating new ways to engage their alumni, who want to stay in touch with BU for long-term learning and mentoring. With an increasing demand for non-traditional education, there are a number of pilot programs now that target lifelong learning.
"Our emphasis is on learning innovation," says Dellarocas. "We introduce new technology to facilitate new ways of teaching and learning. We feel successful when faculty members and leaders adopt one or more of our new strategies."
We'd love to stay in touch, sign up for the Tech & Learning University team to contact you with great news, content and offers.
Thank you for signing up to Tech and Learning University. You will receive a verification email shortly.
There was a problem. Please refresh the page and try again.