How It's Done: Creating The Idea Garden To Grow Student Edtech Opportunities
By Sascha Zuger
The Idea Garden at Indiana University is a "thinker space" for students to engage in collaborative, cross-disciplinary experiences with cutting-edge technology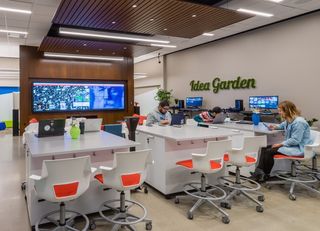 (Image credit: Julie Johnston, Indiana University)
Tech'd out learning spaces not only offer an opportunity to engage students outside the computer science field, but can be designed to foster connections between students and the greater tech community. 
We chat with Julie Johnston, Director of Learning Spaces, about the benefits of creating The Idea Garden, a unique learning space at Indiana University.
Who: Learning Spaces—a division of Indiana University Information Technology Services (UITS) 
Where: The Idea Garden, Indiana University, Indianapolis, IN
What: Creating a vibrant "thinker space" for students to engage in collaborative, cross-disciplinary experiences with cutting-edge technology.
Idea Garden was born out of a concept to "think differently" and create a space for students to be introduced to the latest technology with a focus on solving problems and creating an entrepreneurial spirit. Ever-evolving, it welcomes change as a natural and positive feature of a successful learning space. Friendly staff create an approachable learning environment for those experimenting with emerging technology for the first time, leading the way in making meaningful connections with the greater tech community.
The Idea Garden's mission is to support students interested in 3D modeling and printing, AR/VR, and digital art. We are home to four touch-screen display tablets equipped with digital painting software, 3D modeling software, and slicing software for our 3D printers. We have a Lulzbot TAZ 6 for printing flexible filament, the other Lulzbot TAZ 6 prints in plastic. HTC Vive Pro virtual reality stations, an IQ Wall, the Samsung Flip and Google Jamboard encourage digital collaboration. 
By 2030, there will be a need for employees with advanced technology skillsets. The Idea Garden is providing an incubator space to inspire and welcome all students to explore and create, regardless of their field of study.
Positive Results
Indiana University's wide variety of degree programs benefit from referring students to the Idea Garden for additional support with emerging technologies. Over the past year, the Idea Garden had 20,000+ check-ins to the space. Students leave the university having had the opportunity to explore, design, and create with new and disruptive technologies. 
The Idea Garden is also a venue that allows for hosting activities and events to connect with technologists, entrepreneurs, and business executives. Students have been able to interact with Sony executives from Japan. Google, Apple, and Adobe are active partners within the space and visiting speakers such as TechPoint, Centric Indy, and Salesforce inspire students. 
As an instructor in the School of Informatics recently said, "The Idea Garden has helped solidify IUPUI's name as a place where technology is used in a creative manner, reflected upon critically, and disseminated to broader audiences."
Biggest Challenge
In creating a new space on the campus, we had to make a cultural shift from a staff with traditional technologist responsibilities to creating a dynamic environment for entrepreneurship and exploration. The space required full collaboration from teams in Advanced Visualizations Labs, Learning Space Design, Collaboration Technology, and Student Technology Computing. In doing so, we realized how powerful it is to bring all the elements and expertise of a team together.
Finding Funding
The Idea Garden was paid for through a special budget allocated for the space.
Pro Tips
Exercise patience in adoption—you won't open a unique space and have everyone start using it immediately. New concepts take time to evolve. Consider new ideas, partners, and technology—being an innovator is giving people something they need and want, before they ask for it.
Tech Tools
We'd love to stay in touch, sign up for the Tech & Learning University team to contact you with great news, content and offers.
Thank you for signing up to Tech and Learning University. You will receive a verification email shortly.
There was a problem. Please refresh the page and try again.