How It's Done: Creating a Cloud Infrastructure to Chronicle School Sports History
By Sascha Zuger
The University of Pittsburgh's Athletic Department has developed a cloud solution to allow fans to relive past glories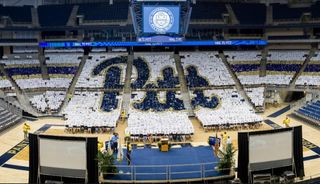 (Image credit: University of Pittsburgh)
These college sports fans have their heads in the cloud.
When your school has spirit, yes they do, and the crowd wants to relive the glory moments and share in the wins and mourn the losses as they happen, you need to support that. The University of Pittsburgh realized that this level of athletic achievement raining down would require a heck of a cloud to hold.
Who: The University of Pittsburgh Athletic Department
Where: Pittsburgh, PA
What: Creating a Cloud and Infrastructure to Chronicle a University's Sports History
The University of Pittsburgh Athletic Department values saving and archiving the achievements of its student athletes. They receive requests from the NFL, NBA, various halls of fame, and other groups requesting footage of athletes from their time at the University of Pittsburgh. The university approached Dell as a partner to help modernize their IT infrastructure to ensure they were able to continue to provide this footage as the old system was unable to keep up with their needs.
When the Atlantic Coast Conference (ACC) contracted for its own ESPN television channel, the university expanded their video production facilities with three control rooms and one full studio. The amount of content that is generated as a result of that initiative is massive. The Athletic Department also had millions of photos and other media assets in different storage silos, making it hard to manage and find anything. A Dell EMC Isilon solution with virtually unlimited scale-out, network-attached storage, consisting of two Dell EMC Isilon H500 clusters with hybrid SSD and HDD, plus one Dell EMC Isilon A200 cluster, all HDD, for backup turned out to be the winning game plan.
Positive Results
In a test, Isilon copied 100 gigs of footage almost twice as fast as our old infrastructure. The Athletic Department works 100% in Adobe Shop so our editors rely on rendering, editing and manipulating footage and that all sits on Isilon. It's ultra-fast, reliable, and I've never lost film access. Isilon has saved the department $52,000 annually in storage and backup costs, accelerated the video workflow by up to 200% daily, and reduced the data storage footprint by 67%. It was easily integrated and we know it will last for years to come.
Pitt Athletics can use any sports footage in marketing and promotional materials. For our current students, they can now provide highlights of their athletic accomplishments. If they have footage of a former player saved, they can share it and that player can use on their own social media to drive their brand.
Biggest Challenge
The Athletic Department is a fast-paced world—coaches and staff need to have data and footage at their fingertips at a moment's notice.
One of Pitt Athletics' challenges was having to archive all the data and footage. It was not easily accessible or searchable and took time to locate, retrieve and share. Now they are able to access footage instantly, turning over clips and highlights to the ACC or ESPN as soon as it's requested.
Pro Tips
Start by assessing your needs and select a solution that will allow your organization to easily scale moving forward. It can be hard to predict future needs, so flexibility is key.
It's important to consider the management of the solution and the value that represents. Pitt Athletics was able to save up to two days a month and $52,000 a year with the easier, more automated management (with the Isilon OneFS operating system and SyncIQ).
Tech Tools
Dell Isilon H500
Dell Isilon A200
Dell Isilon SyncIQ
Adobe Shop
We'd love to stay in touch, sign up for the Tech & Learning University team to contact you with great news, content and offers.
Thank you for signing up to Tech and Learning University. You will receive a verification email shortly.
There was a problem. Please refresh the page and try again.