Edtech in Action: Optimizing Technical Learning Processes
By Shaun Foster
T&L Leadership Summit attendee Shaun Foster shares how he optimized technical learning processes to YouTube for 3D Digital Design classes at The Rochester Institute of Technology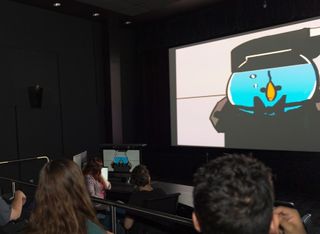 (Image credit: RIT/Chase Gunner)
Edtech in Action is a series of articles from attendees and speakers of Tech & Learning's events. Click here to learn more about these events and to apply to attend. 
T&L Leadership Summit attendee Shaun Foster shares how he optimized technical learning processes to YouTube for his classes in 3D Digital Design at The Rochester Institute of Technology
Initiative: Optimizing technical learning by reducing repetitive questions stemming from multistep processes, which allows students the maximum time to focus on design and critical thinking as well as lab time 
Location: Rochester Institute of Technology (RIT), Rochester, NY
Our program at RIT teaches how to design and create 3D computer graphics for a variety of applications including games, simulation, and character design. There has been a shift over the last seven years for how much of the technical learning has been delivered in my program. When I started teaching more than 15 years ago, cutting-edge and the most advanced technical processes would be acquired by attending conferences or reading white papers. Being an expert in 3D computer graphics meant the need to rapidly learn and then demonstrate complex techniques in front of my students. They would take notes and then pursue 3D design, which would include 3D modeling, building materials, virtually lighting and building animation and interactive elements to their projects based on the tutorials demonstrated in lecture. 
This former process illustrated two problems: 1. It was easy for students to miss a technical step or two, causing multiple repeated questions in the lab. 2. This would create a focus much more on technical processes and would greatly reduce time spent developing effective designs.  
Explaining an accelerated process in lecture and sharing videos showing the complete technical process before class (flipping the class) resulted in faster progress by students both technically and with their design work.
Adapting to this new process takes time. Screencasting (recording the screen) can be done with various levels of polish and information density. I prefer to create short, highly information rich videos.
Here's an example of a popular, 2.5-minute video I made.
Over the last several years I have produced two courses for Pluralsight as well as hundreds of tutorials on my own YouTube Channel.  
Where We Are Heading
Technology acceleration has driven convergence between multiple fields. I've been specifically focusing on the Epic Games Unreal Engine, which is at the center of converging fields (Architecture, Automotive, Broadcast, Training & Simulation), as well as a top video game development platform. Beyond developing new training for Unreal, I'm specifically focusing my research forward on virtual and mixed reality training.  
For faculty and students moving to the online world here are some of my favorite resources:
- Camtasia for screencasting
- YouTube for video tutorials 
- G Suite: (but also simply the free version which includes)
    - Drive: Storage and file sharing
    - Slides: For presentations - very easy to share online
    - Keep: Sharing links
    - Docs:  Word processing
- Zoom: Has online captioning 
- File sharing: Google Drive, Dropbox & Box 
- Pinterest for image reference (FYI: Creative commons / copyright use applies) 
We'd love to stay in touch, sign up for the Tech & Learning University team to contact you with great news, content and offers.
Thank you for signing up to Tech and Learning University. You will receive a verification email shortly.
There was a problem. Please refresh the page and try again.