Campus Essentials: Migrating to a Digital Ecosystem
Balancing standards & adaptability.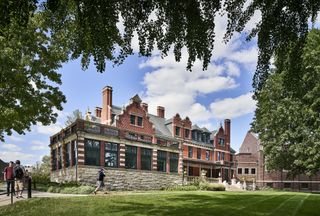 (Image credit: KCAI)
Digital transformation (Dx) is one of the most profound changes in higher education. The EDUCAUSE Review contextualizes Dx as a "series of deep and coordinated culture, workforce, and technology shifts that enable new educational and operating models and transform an institution's business model, strategic directions, and value proposition."
As student enrollment fluctuates and state funding decreases, Dx is being explored as the nexus of tools and strategies to help schools stay agile in the face of change.
While Dx requires strategic planning and institutional/cultural alignment, a digital ecosystem starts with a reliable IT infrastructure.
Faster Fiber
Jake Fowler is on a mission to streamline and standardize. Fowler serves as the Director of Campus Technology at the Kansas City Art Institute (KCAI). KCAI, one of the premier art institutions in America's heartland, is known for its visionary approach to craft, new media, and training in the fine arts. Fowler hopes that upgrading KCAI's network and standardizing equipment will increase efficiencies for all—students, faculty, and staff.
With its student enrollment of approximately 700, the teacher-to-student ratio is one of KCAI's most attractive features. But to meet its target enrollment and ensure retention, KCAI strives deliver excellence in every area—teaching, innovative pedagogical modes, facilities, and student experiences.
"We're in the process of rebuilding our network from the ground up," Fowler said. "We have a lot of construction going on at campus right now. There are two new buildings, a new, modern student living center, a new academic building for Liberal Arts and a 'one-stop shop' housing the registrar, financial aid, and many other student services. In addition, the old student living center is being revamped for academic use by Illustration and Animation as well as a new public gallery space."
With the new construction and retrofits, KCAI has an opportunity to fund new, faster fiber between the buildings on the main campus and off-campus satellites. "The network was slower fiber—and aging. We now have a 10Gb-capable fiber going in. On top of that, we're replacing all the switching."
Working with a distribution company, KCAI selected Extreme Networks for switching and Aruba for wireless equipment.
"The network infrastructure is going to be key as we move into the cloud more with our servers and services," said Fowler. "It's absolutely necessary. Our phone system is also aging. I am also looking at moving [telephony] into the cloud."
Standardizing
When looking to migrate to a digital ecosystem it is important to first create a "proof of concept," said Cory Schaeffer, Director, Strategic Industry Relations, QSC. "Start creating technology standards for each classroom type."
KCAI has multiple platforms for switching and for computing. "One of my big goals, as far as all the hardware is concerned, is standardizing. We're 90-percent Mac, but a lot of the administration uses PCs. I'm trying to standardize the models of PCs so it makes it easier on us to re-image and push new updates out there."
Standardizing network gear is another matter. "The main administrative building is an older building—more than one hundred years old—so I'm not going to go in and replace all the Cat 5 with faster Cat 6 or Cat 5e. But the new buildings will obviously have better Ethernet. We're replacing all of our switching with newer 10-GB-capable switching."
Fowler's office is currently full of Extreme switches right now. "We decided to go with Extremes. The first step was getting quotes from different vendors, for different platforms. Yellow Dog Networks, a local company, is helping us procure and implement the new network."
IP for AV
When it comes to specifying and deploying new AV equipment, the technology you standardize on should "be IP controlled," according to Cory Schaeffer. "This is often overlooked and will be critical once installed."
Collaborative Culture
Schaeffer also believes it's important to establish a healthy relationship between your AV and IT teams—if they don't work together already or in the same department. "Your AV team should also be equipped with IT and networking skill sets to help make the migration easier," she said.
Justify Requests
"We have an annual 'tech request process' where Academic Departments can request technologies," said Fowler. "The Library and the Media Center also request technologies, and we'll fund them as we can, depending on the annual budget."
AVIXA and higher ed tech consortiums, such as CCUMC, can provide templates and language for writing the technology requests, bids, and lifecycle plans to help usher in more digitally-driven ecosystem.
Cloud
"The cloud" is an umbrella term that encompasses an approach as well as an enabling technology; the cloud is not an aim of a Dx but rather a tool. To explore if or how the cloud can provide the agility needed for a campus, first define the architecture, scope, cost benefits, and compliance requirements. Can the cloud can offer your campus the ability to contract services as needed, paying only for those services (e.g., platform-as-a-service or software-as-a-service)?
"We're a Google school," Fowler added. "Students and faculty use Google Drive quite a bit. We have on-premise storage, but I'm really encouraging administrative departments, and many have, to move to a Google Drive, especially with Google Drive File Stream. This essentially creates shares with flexible permissions."
Jenzabar is another example of a campus information system that also offers a cloud services division. Jenzabar Cloud Services can migrate a campus's systems to commercial cloud datacenters.
Support Faculty
The key to getting faculty interested in new digital tool or system is demonstrating it or offering user training, according to Fowler. Faculty and staff have never been busier, but making the time to test drive new technology is crucially important.
"A longer-term goal is to develop a space where we can have a demonstration room," Fowler noted. "We are excited to show off the cool new stuff faculty can use in their classes. We work with a lot of artists here. They are so creative. They push the bounds of technological capability. If I were able to get new tools in front of them, I think they would be more interested in taking advantage of them."
Listen to Users
A digital ecosystem also needs to be adaptable. Justin Rexing, CTS-D, ISF-C, DMC-E-4K, Audio Visual Systems Engineer at Western Kentucky University, said, "it is important to build and design AV systems that can adapt to the ever-changing software platforms on the market."


"Network engineers are constantly looking at ways to improve the networks they maintain, increasing bandwidth and decreasing latency with added security," he said. "Depending on the speed of how this occurs depends on your budget and resources. AV professionals in higher education need to understand and know how to leverage these networks for each situation."
We'd love to stay in touch, sign up for the Tech & Learning University team to contact you with great news, content and offers.
Thank you for signing up to Tech and Learning University. You will receive a verification email shortly.
There was a problem. Please refresh the page and try again.