Beta is Better for Distance Learners
By Sascha Zuger
While designing a dedicated distance learning building, Utah State University designated two rooms as Beta Rooms.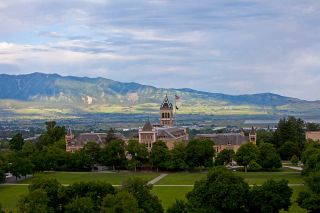 (Image credit: Utah State University)
While designing a dedicated distance learning building, Utah State University designated two rooms as Beta Rooms. Currently undergoing the third update, these tech'd out rooms stay cutting edge and offer students from around the state a virtual seat at the main campus table.
We chat with USU Tech Pro, Robby Sproul, to learn more. 
Who: Utah State University 
Where: Logan, UT 
What: Smart "Beta" Classrooms Bring Distance Learners Near
We have smaller, regional campuses around the state where we live-broadcast classes. They could have just a few students, while the more populated areas might have five to fifteen. The whole idea was to connect those students to the main Logan campus for group work. Before they might use Canvas or view recorded lectures, but they really didn't get to interact with students at the main campus. We wanted them to be part of the everyday live class. That's the goal, to give every USU student the same experience— so we upgraded and designed these "smart pods." 
Every three years we redesign to be beyond cutting edge— to try new things out, to solve problems. This will be the second redesign we are working on now. We design, we learn—we are changing some furniture, adding some tech, updating some aspects that weren't working well. We keep the same theme of functionality, just upgrade the technology.
Biggest Challenge
Biggest challenge we have found is the audio element. Because we are using tech to collaborate with people at a distance, we have to use microphones and speakers. The big issue is trying to isolate what goes in that microphone and what comes out. We have to manage the audio so students can hear clearly, so that's been a big issue. Audio is just tough to control. 
We also had adjustment requests from the educators. We started off with a 'we want you to be in the center of the room' design. The feedback was they really didn't love having to go to different parts of the room to use the technology. So we centralized on the first redesign and gave them their base back, but still kept the active learning concept and the idea that we wanted them moving around. So it was a compromise. We gave them their "front" with monitors and the bulk of the set up, but still had monitors placed around the room. Kids were sitting different directions so we wanted to make sure no matter where they were facing, they could see the content and that the distance learning students could feel a true part of the classroom. It's okay to let the pedagogy drive when educators want to move around and be more active.
Positive Results
We did studies and interviews early on, and the distance learners really benefited and felt like a true part of the class and university. They are hundreds of miles away and they really appreciated being able to talk and interact with Logan students, so it had a big impact on their experience. We've had great success with Spanish classes which allow students to converse live with other students and the professor, group projects in sociology courses— utilizing this IBC system, we serve a wide range of courses and degrees programs.
Pro Tips
The biggest tip is that you need a lot more space. You hear that a lot for active learning, but we've tried and found a much bigger classroom helps with the audio issues. Working collaboratively, the bigger space really helps with noise dampening. 
Also, try to keep it user-friendly, with added features offered on menus so educators can go to the control system and do more complicated things if they choose. This set up does make the room more complicated, but we offer a classroom facilitator to help them make the most of their options.
Finding Funding
The original design of the room was wrapped into an initial building budget for distance learning education— all of the rooms in this building were designed to be a studio, with a broadcast environment. We designated these two rooms as Beta Rooms, or experimental rooms to try new things. We don't change them mid-semester or often, but every few years we upgrade to keep it cutting edge. We go to trade shows, we research online, we talk to other programs. We do a lot of things in house. We don't work with technology integrators, we have our own team that does our design, installation and maintenance.
Tech Tools
Cisco Telepresence System
Cisco WebEx Cloud Connected Audio
Canvas
Crestron Control System– this system makes the whole room work
BYOD, varying tech
HDMI hardwire connections
Crestron Air Media wireless
Each Pod has a large display in front for content, with five other displays around the room.
Several 40" displays show students for group work and class participation, two 70" display content or video used in the class.
Mobile Whiteboards
Cache Valley Electric
Steelcase
izzy +
We'd love to stay in touch, sign up for the Tech & Learning University team to contact you with great news, content and offers.
Thank you for signing up to Tech and Learning University. You will receive a verification email shortly.
There was a problem. Please refresh the page and try again.