Stadium Spotlight: Multi-Purpose Sound at Montana State University
AV systems integrator Black Box Design installed a powerful audio system.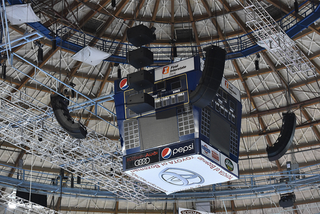 (Image credit: Montana State University)
The Brick Breeden Fieldhouse, on the campus of Montana State University in Bozeman, Montana, is home to MSU Bobcats basketball games and other sports, including track events and the annual statewide high school volleyball tournament, as well as the occasional rodeo. The field house, which seats 7,250 people, has a Bose Professional RoomMatch sound system installed and has become host to a far wider range of events, including meetings and conferences, receptions, concerts and trade expos. Locally-based AV systems integrator Black Box Design, of Big Timber, Montana, installed a powerful system composed of 28 RoomMatch array modules to match the room's acoustical needs, plus four RMS218 dual-18-inch subwoofers. The system is powered by a total of 15 PowerMatch PM8500N networked amplifiers.
Doug Brekke, President of Black Box Design, knows the Fieldhouse and the college well — he graduated from Montana State with a degree in electrical engineering and worked there as a student volunteer before starting his own AV business and becoming an area vendor. He teamed up with Bridgewater Acoustics, the regional Bose dealer, to design the RoomMatch system for the space.
Melanie Stocks, Director of the Brick Breeden Fieldhouse, agreed and noted the benefits of the new sound system. "Before last May, when the new system was installed, the ways we could use the Fieldhouse were rather limited," she explained. "We could do basketball games and track meets, and some music, but even those were subject to having less-than-pristine sound. But since the new system went in, it's been wonderful. There are no more complaints about the sound; instead, there are compliments about it, including from the additional customers who rent the space. The old sound system was holding us back. The new Bose system has changed all that. And in addition to better sound, it's also easier for us and our customers to use it — all of the controls are accessible through a Crestron LCD display. Our entire staff has been trained on it and we no longer need to keep a tech on hand. Working with Bose, with Doug and Black Box Design, and Jay [Bridgewater] at Bridgewater Acoustics, has been a great experience. The RoomMatch system has been the best thing to happen here for sound."
For more information, visit https://pro.bose.com/en_us/index.html.
We'd love to stay in touch, sign up for the Tech & Learning University team to contact you with great news, content and offers.
Thank you for signing up to Tech and Learning University. You will receive a verification email shortly.
There was a problem. Please refresh the page and try again.