Preparing for Back to Campus: Organizing On-Campus Class Scheduling
By Ray Bendici
How Southern Connecticut State University is trying to organize learning spaces for when students head back to campus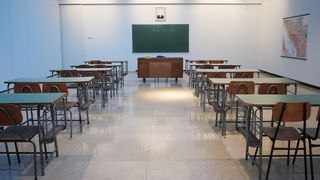 (Image credit: Unsplash: Ivan Aleksic)
Like nearly every other higher ed institution, Southern Connecticut State University in New Haven is trying to prepare for when students head back to campus in the Fall. Of course, scheduling 2,200 classes and nearly 10,000 students into 86 general-use classrooms and a potential 200 more learning spaces based on configuration -- all while adhering to social distancing guidelines and other safety protocols, and navigating the twists and turns of unprecedented global pandemic -- is an immense challenge.
"The plan is to have as many students on campus as we can, and be as safe as we can, but also understand that we need to be super flexible," says Robert Drobish, Southern Connecticut's academic scheduling officer. "This is an opportunity to rethink how we deliver learning, and for evolving, and being able to offer courses in a creative, effective manner."
Currently, the institution is still collecting data and information to inform a plan. Drobish is managing the process of gathering and logging all the requests from the academic departments as to what courses could be fully online (either asynchronous or synchronous), what courses need to be on campus, and what courses could be a hybrid mix.
The institution is also considering various classroom models, such as a HyFlex model, which would involve outfitting a number of classrooms with cameras so that an instructor can teach part of the class in person while the rest of the students watch synchronously and participate remotely. A hybrid model would reduce how many students attend each session in person by having the class -- for example, half would go on a Tuesday and the other half would go Thursday.
Complex changes ahead
The institution is undertaking a capacity analysis for each classroom to accommodate social distancing guidelines. A test database has also been created by its vendor partner Ad Astra to retrofit seat limits and to reset on-ground section limits for the purpose of reassigning classroom space.
"Our current focus is getting all the changes in modality of the classes into the database to see what we can manage for on-campus learning," says Drobish. "Our task is to retrofit the existing schedule to accommodate technology needs and maximize capacities for each room."
One of the goals is to retrofit the existing schedule to accommodate the students who have already registered, Drobish says. It's also important to keep addressing the smaller, unexpected challenges that keep popping up.
And all of this is just the first step, says Drobish. Among the next challenges is figuring out how to implement these new models, providing technology training for instructors, and then procuring and installing all the technology needed to make it work.
"It's a pretty complex set of changes that are happening right now" says Drobish. "In the end, we're going to come out stronger and better from this."
We'd love to stay in touch, sign up for the Tech & Learning University team to contact you with great news, content and offers.
Thank you for signing up to Tech and Learning University. You will receive a verification email shortly.
There was a problem. Please refresh the page and try again.