Campus VR in 2020: Predictions
New Decade for Virtual Reality in Higher Ed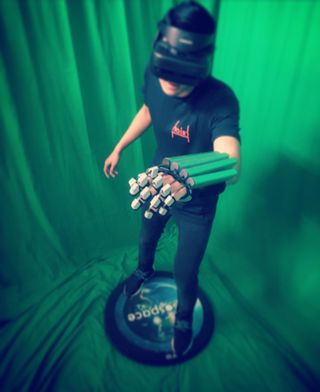 (Image credit: Visospace)
The college campus has long been a laboratory for technological experimentation. From the AV Clubs of the 1980s, to today's high-end 4K displays in esports arenas, students and faculty rely on tech tools for teaching, learning, and building community. Makerspaces, interactive displays, and interdisciplinary ideation spaces are becoming more common, but there's one tech category that is generating tremendous excitement for its pedagogical potential: virtual reality (VR).
INTEREST IS GROWING 
According to Statista, revenues from the global virtual reality market will reach 21.5 billion in 2020. Internet2's 2018 research revealed that 28% of higher education institutions are integrating VR into their campuses, but the figure is increasing. By 2021, Gartner has predicted that 60 percent of higher education institutions in the United States will be using VR to intentionally immerse students. 
The 2019 debut of the wireless Oculus Quest VR system, with a price tag of $399, was cited as a major disruption that will help to democratize this technology. 
VR FOR STORYTELLING, RECRUITMENT, & MORE
As VR becomes more mainstream and affordable, schools are investing in VR-equipped labs and VR tools. Some schools, like William Patterson University, are supplanting outdated and underused spaces, like photo development labs, with and VR studios. Texas A&M University used virtual reality as a storytelling tool—to wow SXSW 2017 viewers with more notable features of its campus. Meanwhile, the libraries at the University of Nevada, Reno are collaborating with that institution's Anthropology department to create a "Virtual Museum," which involves scanning and photographing the department's collection of Native American baskets. Western Carolina University's School of Nursing is testing VR to support experiential learning.
VR to Influence the Interior Design Curriculum
VR was a hot topic at EDUCAUSE 2019, inspiring poster sessions, conversations, and best practices sharing. In the session "Disrupting Reality: Virtual and Augmented Reality in the Interior Design Curriculum," professors Ruben Duran and Muddassir Siddiqi contended that virtual reality has gone from speculative to ubiquitous. "Now in the hands of architects and designers, it [VR] has the potential to revolutionize the design process," the professors stated. They also pointed to the interactive and immersive nature of VR as one of its most transformation features for student designers.
While opinions vary regarding how much VR to integrate on a campus, faculty and instructional designers agree that the value of VR comes when it is embedded strategically in a curriculum, encouraging students to learn and solve problems in experiential ways. VR offers professors the ability to extend the classroom and augment the learning experience.
VR CONNECTS THE MIND & BODY TO SUPPORT KINETIC LEARNING
According to Dr. Puya Abolfathi, CEO/Cofounder of Visospace and CEO/Cofounder of Picobionics, VR is the "ultimate tool for education."
"VR has the potential to revolutionize learning for every institution," Dr. Abolfathi said. "As humans, we learn best through interaction and experience. If used thoughtfully and properly, VR as a medium can allow students to be there—in body and mind—interacting with their subject matter be that history, science, math, or art."
Dr. Abolfathi explained that both sophisticated and abstract ideas can be transmitted to the student in a fully engaged visceral manner using VR. Virtual reality also allows students to learn and explore ideas at their own pace.
FUTURE-PROOFING FOR VR?
While it is hard to future-proof an institution for an industry that is changing all the time—and without the proper information, a school can certainly future-proof in the wrong ways—Dr. Abolfathi believes it is crucially important for every university to invest in at least one VR lab. "Even with one lab on campus, teachers can introduce VR to students and inspire them," said Dr. Abolfathi. "More engaged students will naturally want to involve themselves with new kinds of projects and keep up to date with the industry. In turn, they will bring ideas back into the lab and faculty." He believes this approach ensure that the institution has one foot in the industry and "they can move and shift as the industry evolves."
STUDENTS WILL SHAPE THE FUTURE OF VR
Too often, Dr. Abolfathi observes, the digital world is experienced in a flat matter, only born out of computers placed in our real spaces. Conversely, virtual reality offers a true mixture of physical and digital. "This convergence will be transformational for various industries, such as medicine and architecture, but especially education," he added.
2020 Will Be the VR Decade
"With the technology now affordable enough and readily available, I predict this is the decade for VR education," said Dr. Abolfathi.
We'd love to stay in touch, sign up for the Tech & Learning University team to contact you with great news, content and offers.
Thank you for signing up to Tech and Learning University. You will receive a verification email shortly.
There was a problem. Please refresh the page and try again.