Defining AV over IP for Your Campus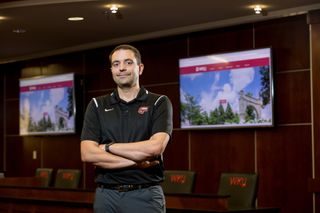 (Image credit: DREW THOMPSON)
For many commercial facilities, the analog sun set in 2012. The digital revolution ushered in a new era of AV connectivity via HDBaseT and other point-to-point methodologies. AV-over-IP systems take connectivity a step further by leveraging data highways already in place, AKA Ethernet networks. As AV over IP advances, many campus technologists are looking to AV over IP for greater flexibility, remote management, and scalability. But AV over IP can mean many different things to many different people. The first step in bringing AV over IP to a campus is to define what it would mean for your users and examine how users will benefit.
According to Justin Rexing, CTS-D, ISF-C, DMC-E-4K, Audio Visual Systems Engineer at Western Kentucky University, the interpretations of AV over IP are varied. "Some think of AV over IP as grabbing a unicast stream from your VLC software," he said. "Others think of it as the 'low latency' 1Gb and 10Gb products now on the market. Others think of YouTube. Or maybe HDBaseT? Pandora? Either way, if it is wrapped in a packet form, and you see it and/or hear it, it's literally AV over IP."
There's no wrong answer in defining AV over IP, Rexing said, but that can be dangerous if you do not truly understand your client's needs or goals.
Various institutions have different priorities to get information like audio and video out to their targeted audiences. It is important to build and design AV systems that can adapt to the ever-changing software platforms on the market.
Rexing suggests the following questions for AV-over-IP planning: "Does it make sense to put a hardware encoder on every source device in a building with 100 classrooms? Or does it even make sense to have the video and audio shared between all classrooms? Or do we just need these systems on the network to maintain them effectively and check their status?"
The answer to these questions will start to complete the picture on how your digital ecosystem at your facility or campus will formulate over time. "The key is to ask the right questions, listen to your end users' needs and goals, and be knowledgeable on how to achieve their aspirations," Rexing said.
MORE INFO
AVIXA: AV/IT Infrastructure Guidelines for Higher Education
avixa.org/standards/current-standards/av-it-infrastructure-guidelines-for-higher-education
We'd love to stay in touch, sign up for the Tech & Learning University team to contact you with great news, content and offers.
Thank you for signing up to Tech and Learning University. You will receive a verification email shortly.
There was a problem. Please refresh the page and try again.