Case Study: Creighton University School of Dentistry Engages Alumni with New Video Wall
AVI Systems installs powerful 4K video centerpiece.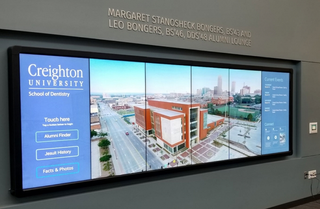 (Image credit: Creighton University School of Dentistry )
The Creighton University School of Dentistry, established in 1905, has a long and storied history of preparing dental graduates noted for professional excellence and commitment to improving the health of their communities. The school resides in a new, state-of-the-art building in downtown Omaha, Nebraska, which offers an inviting gathering place for alumni—the Margaret Stanosheck Bongers and Leo Bongers Alumni Lounge.
The lounge, which is designed for events such as reunions, receptions, and celebrations, features an impressive, six-screen video wall powered by RGB Spectrum's Galileo video wall processor.
AVI Systems, a national audio-visual systems integrator, incorporated the Galileo video wall processor because of its 4K image quality, its support for a diverse range of input sources and the versatility it brings in displaying portrait orientation. The processor drives the lounge's 1 x 6 portrait-mode video wall to entertain and inform viewers. The video wall displays names of the dental school's graduates, Creighton's Jesuit history, an event calendar, social media feeds, and historical school facts and photos.
The Galileo processor supports both conventional baseband and IP stream inputs up to 4K resolution. It receives inputs from media servers, computers, an HDTV tuner, and a DVD player for display in windows of any size, anywhere on the video wall. Using a simple, intuitive GUI, operators can select preset display layouts, switch and route sources, and size and position windows on the fly.
Read more details about this unique project on RGB's website.
We'd love to stay in touch, sign up for the Tech & Learning University team to contact you with great news, content and offers.
Thank you for signing up to Tech and Learning University. You will receive a verification email shortly.
There was a problem. Please refresh the page and try again.