10 Higher Ed Tech Predictions for 2020
Prioritizing 5G, Cybersecurity as an Institutional Goal, & The Neurodiversity Movement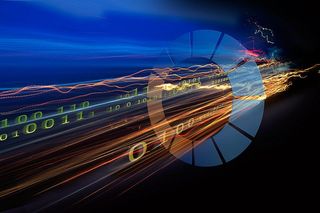 It's not just a new year, it's the start of a new decade. From the investment in AI to the CIO's evolving role, 2020 will codify technology and design trends that will shape the next chapter of higher ed innovation. Here are key forecasts for higher ed technologists this year.
1) 5G Will Support the Interconnected Campus
It's not the panacea, but the fifth generation of wireless technology, 5G, and the lightning fast upload/download speeds it will afford are expected to help institutional adopters enable more emerging technologies. According to Qualcom, "5G will deliver multi-Gbps peak rates, ultra-low latency, massive capacity, and more uniform user experience." 
On the higher ed campus, 5G could translate into better data access as well as videos, lecture capture, VR, and other virtual learning initiatives. With more reliable, lower latency links, 5G can support more robust online research and collaboration among universities. The deployment of 5G networks will support a stronger ecosystem of interconnected IoT and IP-enabled technologies on campus.  
2) Esports Will Open New Doors 
By 2020, the esports market is expected to generate more than $1.48 billion in revenues, and the esports revolution will impact the higher ed campus in profound ways. Expect new teams to form and current teams to expand while tournaments pop up across the country. Esports is poised to affect both the physical campus and student life, as well as pedagogy (similar to the proliferation of courses in game design and game theory). Learning space designers and audiovisual / IT procurement teams will also need to examine the technical requirements for esports practice spaces and arenas. As infrastructure needs evolve, AV-over-IP systems from the likes of Crestron and Dell are being explored as potential low-latency solutions. New degree and certification programs are also expected to expand as the popularity of esports grows across the country.
3) OER Adoption Will Grow
License-free open electronic resources (OER) continue to grow in popularity. Three million students are currently using the OpenStax version of OER textbooks. Housed at Rice University, "OpenStax breaks down barriers to knowledge and education with its free, high-quality, openly licensed textbooks integrated with personalized learning technology," said Ann Doerr, OpenStax Advisor and Rice University Board Trustee and Alumna. "[OpenStax] it advances students' learning outcomes while conducting foundational research on how students learn through their use of machine learning," she stated.
More broadly, OER lets instructors create their own textbooks and resources by remixing and reusing their own content. OER stands to disrupt "traditional" academic publishing, but the most important element of OER is, arguably, reducing costs for students. Prohibitive textbook costs are a real and immediate barrier to access. If a student cannot afford a textbook, they most likely will not buy it, and grades will inevitably suffer.  
4) AI Applications Will Increase on Campus
From campus chatbots to automated grading, AI will assist instructors and staff – especially where AI can be deployed at scale. The Georgia Institute of Technology is just one of the many schools leveraging the power of AI to ease the burdens of busy teaching assistants. As more AI initiatives find institutional homes within the university structure, e.g., IBM's AI partnership with SUNY Poly, educational applications for AI will grow.
5) The CIO's Role Will Continue to Evolve
As IT becomes an integral part of every aspect of campus life, the CIO's role is changing. Because IT has become mission critical to the sustainability of the modern college/university, today's higher ed CIO has never been more focused on institutional missions, alignment, and Dx as an organizational goal. Learn more about EDUCAUSE's CIO resources. 
6) Cybersecurity Will Be Paramount
Data privacy, data protection, and cyber security are top concerns for university tech teams. While IT and AV departments balance the need to keep data safe, students are also pushing for more personal privacy, such as rejecting facial recognition on campus. Meeting all of these diverse needs is no small task, but if anyone is up to the challenge, it's the higher ed technologist. And though the ever-morphing world of cybersecurity presents myriad daily (hourly?) obstacles, it also offers potential opportunities for savvy universities. New degree programs in cybersecurity are cropping up at two- and four-year institutions to fill the cybersecurity skills gap.
7) Student Retention Will Be Re-imagined
Think: student retention—but with a modern twist. Campuses are rethinking retention, framing it as student support and success that is centered on the learner's needs—a holistic and more personalized approach. Student success in 2020 also includes new technologies that can help students stay on track. Online wellness tools, asynchronous learning, and more accessible, adaptable pathways will help students stay engaged.
8) Credentials Will Empower More Learners
Separate from "traditional" degree programs, credentials can offer more flexibility for nontraditional learners in 2020. Credentials also support lifelong learning and keep alumni engaged as they strive to stay relevant in the ever-evolving workforce.
9) Soft Skills Will Differentiate EdTech Stakeholders 
As automation looms, empathy, creative synthesis, and collaboration will become more important. AI and machine learning are already transforming industries by solving everyday tasks at scale—and education will be inevitably influenced. To prepare for the changes that will result from AI's advancement, look to 2018 The World Economic Forum's "The Future of Jobs." According to the report, "The Fourth Industrial Revolution will have brought us advanced robotics and autonomous transport, artificial intelligence and machine learning, advanced materials, biotechnology and genomics." These findings suggest that technical acumen will not set us apart in the near future. What I believe will help differentiate the educational stakeholders of tomorrow will be soft skills such as creative dexterity, problem-solving, agility, empathy, and emotional intelligence.
10) The Neurodiversity Movement Will Develop on Campus
According to Stanford University, "Neurodiversity is a concept that regards individuals with differences in brain function and behavioral traits as part of normal variation in the human population. The movement of neurodiversity is about uncovering the strengths of neurodiverse individuals and utilizing their talents to increase innovation and productivity of the society as a whole."  
The awareness of neurodiversity on the college campus is, thankfully, increasing. So is the need for schools to offer more inclusive learning spaces, intentional leadership, programming, and multiple modalities to support neurodiverse individuals. Expect to hear more about new learning space designs, new edtech tools and platforms, and inclusive student services to support neurodiverse communities. Universal Design will also influence web and physical designs on campus.
Learn more about Standford's Neurodiversity Project and Landmark College's best practices.
Margot Douaihy, PhD, is a writer and editor based in Northampton, MA.
We'd love to stay in touch, sign up for the Tech & Learning University team to contact you with great news, content and offers.
Thank you for signing up to Tech and Learning University. You will receive a verification email shortly.
There was a problem. Please refresh the page and try again.